The Scales of Life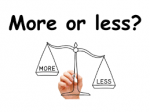 Sun, 13 Jan 2019
More of Less
The scales of life tip to and fro
More of this, less of that
What's trending now?
I know not which way to go.
Immortality out of reach
Scientists, dieticians, in the know
Set a mixed up path
A secret shared is what they teach.
The more I live, the less I comprehend
Less time, more or less
No guides, I'll make it on my own
'Till the final curtain...
My beginning and my end.