Gift: A Son's Story (Blood)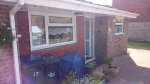 Sat, 17 Nov 2018
            I'd kept a few of mum's ornaments back because mum's personal carers, Theresa and Lottie, had said they would call in sometime during the week.  I'd asked them both if they'd like something - a little keepsake.  On the Saturday, Lottie texted me to ask if it was alright to call around.  I met her at the bungalow first thing and she looked through what there was.  She finally selected a small ornament of a couple of robins on a tree branch.
            "This'll always remind me of your mum as she loved her birds.  Are you sure you don't mind if I keep it?"
            "Of course not," I said.  "It's the very least I can do for all you did for mum."
            I sensed something wasn't quite right with her.  I hadn't mentioned the funeral, but then Lottie asked me how it went.
            "Sorry I couldn't make it after all.  Something came up."
            "That's alright," I said.  "Theresa said you'd let her know.  And I managed to get her there, anyway."
            "I haven't seen her yet.  Was she very upset with me?"
            "No.  I said to her it must have been something quite important, because I knew you'd said you wanted to go.  I wondered if it might be too much for you."
            "No, it wasn't that.  I wanted to be there."  She turned the ornament over in her hands delicately, sighing.  She looked like she was close to tears. 
            "If you want the truth, I'll tell you," she said.  "I've been very upset by it, and I wanted to say something to someone."
            "What is it?"
            She sighed again.
            "The night your mum passed away, when I came over... like you said I could."
            "That's right."
            "Well... when I got here, the daughter stopped me outside..."
            "Which daughter?"
            "Sorry... your brother's step-daughter."
            "Nicole?"
            "Yes.  She asked what I wanted, and I told her I'd come to see your mum.  She then said to me 'Sorry, this is family only.'"
            I was putting the remaining things back into a box.  At that moment, I had hold of a whimsical little wooden bi-plane model Nicole had given mum once for her birthday.  It had a tiny wooden propeller, and a single airman - helmet, goggles and walrus moustache, like a character out of Trumpton.  I stopped and put it down.
            "She said what?  I invited you."
            "I know."
            "You did more for mum than anyone else, too."
            She looked at the ornament in her hands.
            "I was going to go.  But at that moment you appeared and told me to come in."
            "That's right."
            She seemed apprehensive about something. Like she didn't want to say any more.
            "So, is that the reason you didn't come to the funeral, Lottie?  Because you of all people were welcome."
            She shook her head.  "After I'd seen your mum, when I went to go home, the daughter was with your brother's wife, still standing outside the door.  As I walked past them, she said to her mum - loud enough for me to hear - 'I don't think Kevin had any right to invite people here who aren't family.'"
            All I remember next was my fist crashing down repeatedly on that model plane, and bits of wood flying all over the carpet.  I felt a shooting pain in the side of my hand as one of the jagged bits of wood stabbed into it.  Drips of blood appeared on the carpet.  And still my fist kept crashing down.
            "HOW FUCKING DARE SHE!  HOW FUCKING DARE SHE!  HOW FUCKING DARE SHE!"
            I only stopped when Lottie clutched my arm and held it.  I looked up.  She was in tears now.  I noticed the blood on my hand for the first time.  That brought me out of it.
            "I'm sorry, Lottie," I said. 
            "No, I'm sorry, love.  I shouldn't have said anything.  It just upset me so much, the way she spoke."
            "I'm glad you did say something."
            "I just thought you ought to know."
            "Yes."
            I sucked at the edge of my hand where I'd cut it.  I tasted the blood in my mouth.
            "I didn't want to cause any trouble," Lottie said.
            "Don't worry," I said.  "I'll sort this out.  I invited you that night and you were welcome, and I'm pretty sure my brother would have agreed.  As far as I'm concerned, you're more family that she is."
            Lottie put her ornament in her handbag and got up.
            "Thank you for this, love.  I'll leave you to get on.  And I'm sorry again."
            "It's alright."
            I gave her a hug and saw her to the door.  When she'd gone, I wrapped some kitchen towel around my hand to stop the bleeding.  Then I got a dustpan and cleared up the mess I'd made.  Mum had always been fond of that little plane and there was a part of me that felt a pang of regret at what I'd done.  But the rest of it was white hot anger.  I was glad Russell was away because it would give me a chance to cool down before speaking to him about it.  And I would be speaking to him about it.  Not to Lynn.  That would achieve nothing.  And I certainly had no intention of speaking to Nicole.  I had nothing further I wanted to say to her.  People say 'forgive and forget', but that's a nonsense.  You never forget.  You just come to terms, most likely by trying to accept that the people who do and say things to hurt you do them out of ignorance rather than malice.  I'd always maintained that the ability to forgive is one of the highest human qualities: that those three words 'I forgive you' carried as much power as 'I love you'.  I'd always thought it was wonderful when someone could forgive someone else who'd done them a heinous wrong - such as hurting a loved one, or destroying something precious.  But forgiveness is one thing.  And maybe it can, in some circumstances, go no further than that.  Maybe, in some circumstances, we need to forgive... and then walk away.  And that's what was going on in my head at that time.  If I was honest, it had been in my head for a very long time before.  I'd always tried to do forgiving and moving on.  But it hadn't always worked.  Maybe the time had come to take it further, and to walk away.
            Joanne (Russell's natural daughter) came that afternoon to help out, as she'd promised.  We cleared the garden bits, the planters (she took them all back for her garden), and the rest of the things in the shed.  Then it was just another couple of trips to charity shops.  That left just the armchairs, which she was collecting the next day, and the unit.  Sue popped down whilst we were working and said that she would have it after all, and would also be available next day if we wanted to move it over.  So... that was everything.
            I told Joanne Lottie's story.  She also flipped.
            "What right does she think she has to say anything about what happens in our family?"
            "Erm... I guess that your dad's married to her mother.  Maybe she thinks that gives her the right."
            "I wouldn't have dared to say such a thing to Lottie.  I'd have invited her, too.  After all she's done.  And after all you've done, too - to challenge your wishes."
            "Yeah, well.  You're not Nicole, are you."
            "Thank Christ for that!"
            The chairs were gone and the unit moved by Sunday lunchtime.  Apart from the carpets, curtains and lampshades - which we'd agreed to leave, even if they weren't needed - the bungalow was now empty for the first time in almost a quarter of a century.  I tried to put that to the back of my mind and focus instead on final little jobs.  I scrubbed the shower room out and made sure all the porcelain was clean.  I wiped over the doors and the other paintwork.  I vacuumed all of the carpets thoroughly.  I made sure all of the windows were closed and locked, but that the vents were open.  I turned the heating to a lower setting.  Then, without stopping to look around further, I let myself out and locked the door.  All that was left to do now was to hand the keys over.  There was still almost two weeks to go, but there didn't seem to be any more reason to return.  The mail had all been redirected to me and all the crucial people notified.  I couldn't ever remember a time in all those years when I hadn't been to the place, except on a couple of occasions when I'd taken holidays - one of which was when I'd been to Canada with mum, anyway.  It was the only home in her entire life that was truly her home.  And part of me would always think of it as my home as well.  But now I had no need to ever go back to it, and didn't think I ever would.
            Before I left, I took a photograph of the front.  It was similar to the photo I'd taken when mum had been in hospital, and I wanted her to see that the place was alright.  The only difference was that the planters were missing.  And her scooter, too, which she always parked under the kitchen window.  The window looked the same, with the valance and the pastel pattern curtains.  I almost expected to see mum standing there, at the sink - as I'd so often seen her over the years - getting something ready for dinner, or washing up.  And perhaps she'd look up and see me and wave, or perhaps not.  Seconds later I'd be walking in the door, and feeling the heat hit me, and hearing the radio on in the kitchen and the clattering of dishes, and calling out "It's only me", as if she didn't already know from the way I rang the bell - which I always did, even if she'd seen me coming.  "I always know your ring," she'd say - though it was just a ding-dong like anyone else's.  But apparently I had a way of pressing the button that made the sound seem slightly longer.  I'd do that and walk in and say what I always said, and she'd say what she always said.  And we said the same thing day after day, month after month, year after year, all the way back.
            "It's only me, mum,"
            "I know.  I can always tell from your ring."
            All those times.  All those exchanges.  All those small, routine, forgettable things that I could never forget - all gone now, like tears in a rain shower.
            There is an idea that grief is essentially a selfish thing.  We grieve for what we have lost from our lives.  But I was grieving for the life that mum no longer had - to enjoy the things she used to enjoy.  The birds, the flowers, the trees.  The sounds and smells and tastes and sights.  The changes in the seasons.  The warmth of summer days and the invigorating cold of a winter walk.  The colours of spring and autumn.  The waxing and waning.  The emotions: love, joy, and even sadness.  The friendships.  The things she loved doing: walking, painting, listening to music, tending her garden.
            All those moments.  Gone.
            And it's only me now.
            It's only me.