Mistake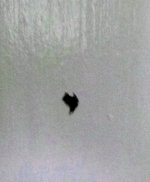 Wed, 19 Jan 2022
1 likes
MISTAKE    
The paintwork's chipped where
you kicked the door shut
that night - not in anger then,
but the urgency of the moment:
a thing that began with a brush
of hand against hand,
a shifting of sense,
passion erupting -
desire made flesh.
A dab would cover it -
a spot of white, erasing
as you would a misspelled
word, an apostrophe
misplaced.
But I leave it.  I'd still
know it was there.
Best to do the job properly.
Or not at all.