Money - some context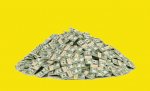 Sat, 15 Jan 2022
2 likes
As of 13th January 2022 (last Thursday), the Top Ten richest people (all men) in the world had an estimated (official) net worth as follows:
1. Elon Musk ($280.9 billion)
2. Jeff Bezos ($191.1 billion)
3. Bernard Arnault & family ($189 billion)
4. Bill Gates ($135.8 billion)
5. Larry Ellison ($121.6 billion)
6. Larry Page ($120.9 billion)
7. Mark Zuckerberg ($118 billion)
8. Sergey Brin ($116.5 billion)
9. Warren Buffett ($116 billion)
10. Steve Ballmer ($101 billion)
That means the combined (official) wealth of these 10 men equals just under $1.5 trillion. 
Or $1,500,000,000,000.
I don't know about you, but I can't imagine such a sum.  I need some context to make sense of it.
So, how about...
These 10 men own more personal wealth, according to figures provided by Oxfam, than the poorest half of the world's population - or almost 4 billion people.
10 men owning more wealth that 4 billion people.  Still it makes no sense.
10
4,000,000,000
Nope!
Okay... let's try this...
10 men would fit just about comfortably into 2 large cars - 5 in each.  If those cars were travelling at a speed to pass you in 1 second each, with a sensible 2-second gap between them, they would pass you in 4 seconds.
4 seconds.  The blink of an eye.
Now... let's fit 4 billion people into similar cars.  5 to a car would make a total of 800 million cars.
Or 800,000,000 cars.
Now... if those 800 million cars were travelling behind our 10 men in their 2 cars, and were moving at the same speed, with the same 2-second gap between them... how long would those cars take to drive past you?
76 YEARS.
You can do the maths yourself.  It's easy enough.
4 seconds. 
Or the average Western human lifetime.
Please - don't say 'But they give lots to charity'.
10 men - 4 seconds.
4 billion people - 76 years.
And all charity does is underpin the problems rather than solve them.
Okay... I'll shut up now.
Just putting this out there, while some of those men play with their cars and rockets.
As a minimum-wage social care worker, I look forward to April when I can start paying an extra 1.5% in National Insurance in order to fund the continuance of my own job, while these men continue to find all kinds of creative ways - via their expensive (to all but themselves) tax lawyers - to avoid paying taxes at all.
(image: my own)