The Ticket Window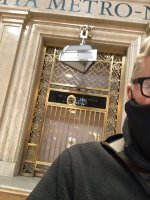 Sat, 24 Oct 2020
1 likes
With the ghost of Cary Grant as my guide, I swaggered over to the ticket window at Grand Central Terminal.
"Judy! Judy! Judy!" I said. "I'd like a bedroom on the 20th Century."
"Oh, please," said the ticket agent. "Not another one."
"Another one?"
"Yeah. We get jokers like you coming in here a dozen times a day. Out-of-towners looking for cheap thrills. 'Oh, look at me! I'm standing at the same ticket window Cary Grant stood at in North by Northwest! Somebody pinch me! Take a picture before I faint!' Oh, brother. Just tell me where you want to go and I'll sell you a ticket. That's how this works. We're not a talent agency looking for cheap comic impersonators. And if you tell me you want a ticket to Mount Rushmore I'm calling security. We have a special cell in the basement for tourists who torment the citizens of New York City with counterfeit British accents. I hear we once arrested Dick Van Dyke not long after his assault on the Queen's english in Mary Poppins. Made him watch My Fair Lady a dozen times till he learned his lesson. And, unless a sultry Eva Marie Saint is about jump into your arms with wild abandon, and a look in her eye that could drop a man's trousers at twenty paces, I suggest you mosey along and peddle your papers somewhere else. I have a legitimate ticket window to run."
"I don't really need a ticket," I said. "I download my monthly pass on my phone. It's easier than lining up at the window."
"What line? Do you see a line? I don't see a line. Now look to your left and then look to your right. Do you see anyone at the other ticket windows? Of course you don't. Because I'm the only ticket window open these days. And the only one giving me the business is you. Now scram. I'm going on my break."
"Anyone ever tell you you look a lot like Lex Luther?"
"Only since 1978. You tell that to every bald guy you come across? And, no, you can't come visit my secret lair buried deep in the heart of this old terminal. Now why don't you run along and leave me in peace. I'm too close to retirement to put up with the likes of you anymore."
And with that he was gone. Like he was sucked through the bowels of the earth by an unseen vacuum tube. Could it be? Nah. that's silly. It must have been an illusion. Or was it? 
Picture: Self-portrait.