My Eyes.....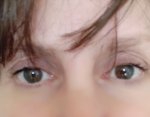 Sun, 23 Apr 2023
3 likes
I first discovered that my eyes could show me a hidden world when I was three years old. We were living in a new house, a small fifties semi with metal windows in a 'nice' area. It had a green carpet on the stairs and the stairs were where I liked to hide. Not that anybody would be hidden on a staircase but they would at least be in limbo, neither on the ground floor nor the first and from a young age I loved the feeling of being in limbo. As a child, travelling in a car without the responsibility of driving or even really knowing or understanding where we were going offered me an exquisite and regular sense of limbo.
So, on the third or fourth stair up from the hallway, I would sit with my knees facing forwards. Then I would twist at the waist to place my tiny forearms on the stair above and rest my head on the backs of my hands, pushing my eyeballs with my knuckles; not enough to cause discomfort but just enough for the stars to come out. The stars were on the inside of my head, on the walls of my mind, the galaxy of my most inner thoughts and I was still very closely connected to this world because I'd only been out of the womb for a few years. Somewhere inside the blackness, the stars sparkled, mostly in shades of white but also greens and reds like the fireballs which occupy the skies above all of our physical selves.
I occasionally go there still but the stars don't appear as clearly, a sort of fog has built up and there are blurry entities in shades of purple and orange which float around obscuring the view. I also no longer experience limbo on car journeys since I'm usually driving to work or the supermarket or being an unpaid taxi driver. The only limbo I get now is when I'm on a plane, a rare occurrence but nevertheless I find hurtling through the air at five hundred miles an hour, divine.
Around about age nine I got into an unhealthy habit of thinking too much, of letting my thoughts spill into territories where no good can come of it. One day I realised that my eyes were the most vulnerable part of my body, after all I could scratch and poke at all the other bits without causing any real harm but my eyes….Just a gentle scrape across the surface of my eyeball could cause immense pain and injury. 
This thought branded itself into my consciousness and for a period of about six months to a year I became obsessed with the idea that it was physically possible to scratch my own eyes out. Indeed, the only thing that was stopping me was some unfathomable sense of self-preservation which was at the mercy of me, the inner me who had now shown myself to be unstable and  rather odd.
I went to bed each night tortured by this thought to the point where my hands would go all tingly and hover up towards my face, even pushing on the lower part of my eyes, although they always shut automatically at this point. It affected my ability to fall asleep and left me in agonising tears. My mother, rather than march me off to a child psychologist, decided that the way forward was for me to go to bed in mittens and to her credit this really worked and eventually I stopped thinking about scratching out my own eyes in bed. 
It didn't take long for me to become preoccupied by yet another unhealthy thought regarding the fact that my eyes were never truly closed. I was lying in bed one night and it dawned on me that my eyes were in fact still looking, they were looking, not into my own internal galaxy, but simply at the inner surface of my eyelids and therefore they were not really closed because they were still 'looking'.
So I lay in bed night after night, unable to fall asleep because my eyes were still open beneath their thin, fleshy lids. I didn't stay awake all night though, eventually a sort of fantasy curtain would be slowly drawn across my inner lids and the blackness would be replaced by images from my conscious and later from my subconscious. I thank the universe for dreams and the release they give us.
These days I don't really suffer too much from these sorts of destructive thoughts. I do have intrusive thoughts and an inner voice which is often incredibly rude but I feel I've mostly got a handle on things.
I should also say that my eyes are in fact odd in colour. One is a sort of dark green but looks brown from a distance and the other is about seventy percent true brown and thirty percent blue, rather like a pie chart. I often think that the brown represents the sane part of me and the blue is there to remind me that I can sometimes drift into deep, uncharted waters where there are sea monsters of my own making but if I keep my eyes open, there is still so much to see.