Trip to Say Goodbye - 7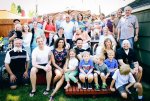 Mon, 11 Jul 2016
Mary K was sure that Kathleen's nearly comatose state was not typical, and that she would be all right the next day, the day of the family gathering. She had to be – it was an official send off, complete with photographer. It was her wake in advance.
That might sound unkind and a bit over the top, but that is exactly what Neal, Kathleen's husband had done 12 years ago. He had cancer, and although he took every medical option, and then every quack option available, at vast expense, there did come a stage where he had to admit he was dying. So he decided to have a big party – and he and Kathleen invited all their friends of the past 42 years of their marriage. He looked like a skeleton, and couldn't eat or drink, but he really enjoyed the
occasion. He died a few weeks later. On the actual day of his death, all five kids were at the house, and they sat around playing guitars and singing all the old favourites. But when it came to, " Hang down your head, Tom Dooley – poor man he's going to die." he said. "Oh, please," in a very annoyed voice.
But going back to Kathleen and the current planned party - She couldn't just leave the facility – something had to be arranged. Mary K asked for the physios on duty to come to the room. There were no doctors there on a regular basis. They made weekly rounds, and of course could be called for emergencies, so the physios were the best option.
"She does not seem in a fit state to go," said the first one, although she was new and had never seen Kathleen before.
"She's not like this normally. She can talk and even watch TV and understand what's going on. This is just something temporary. This party is very special. All the family are coming and relatives have come from all over the country and world to be there. She can't miss it."
"Where is this party?"
"At my sister's, just a few miles down the road."
"What arrangements have you made to get her there?"
"I thought maybe your transport system  could take her. I know they have taken her to the hospital when she needed xrays."
"But this will be a Sunday, and they wouldn't be working normally. And also, they would only do that for medical reasons."
"Then I'll take her in my car. I can do that. When she's at her usual care home I take her to all her medical appointments."
"I don't know if that would be safe, not with the way she is now."
"I've done it hundreds of times. It will be safe."
"I don't think we can approve of you taking her out of here like she is."
The other physio piped up, "Maybe you could show us how you would do it, and if we think
it looks safe, we could say it is okay for her to go with you."
So Kathleen was got into an upright position, and her wheelchair was produced. Unfortunatly one of the leg rests was wonky – meaning one foot dragged on the ground. They lifted Kathleen into the chair, and wheeled her down the corridor. Mary K went off to get her SUV from the car park up to the door.
She opened the door, and put a piece of an incontinence sheet on it to make it more slideable. Then wheeled the chair as close as she could get. "Give me a hug, Moma," she said, and Kathleen put her arms around Mary K's neck. Mary K, who is a very large and strong woman, bodily lifted her out of the chair and then swung around to place her in the seat. Unfortunatly, Kathleen's foot went on Mary K's flip flop and it came off, causing a slight lack of balance. But Mary K did get her on the
seat, looking limp and very unstable.
"I don't think we can approve of this," said the first physio. "You might have fallen, and you would have dropped her."
"I won't be wearing flip flops tomorrow."
"No," agreed the second physio. "It's too big a risk. If you take her, it will not be with our authorisation."
"What if I get a wheelchair access cab?" asked Mary K.
"Well, that might be okay," they agreed. "But we did have one instance lately where someone was  being trasported in that way and the wheelcahir wasn't fixed properly and the patient was flung aroumd and got whiplash injuries."
"I'll get a proper approved one, and make sure it is safe," said Mary K.
"Okay, then we'll write in the notes that she can go, if she is in an approved wheelchair access cab."
So we took the reverse trip, and Kathleen was replaced in the wheelchair, and then back in her bed, still looking totally unaware of what was going on around her.
Sunday dawned, and Margaret got up early as she was making baked beans the old fashioned way, which involved six hours cooking in a crock pot. I helped her a bit with the arrangements, but she is very efficient and had pretty much everything in hand. Mary K phoned mid morning to say she had tried to get a hospital ambulance to take Kathleen to the party, but it would cost $220 each way. So she tried just an ordinary cab company with a wheelchair option  and she booked it for $13 each way.
Larry, Kevin (Mary K's husband) and Mark (Mary K's brother) went golfing.
Cathy and I went for a walk on Hawthorne Avenue – one of Portland's main shopping streets, full of interesting boutiques, antique shops, caravans for exotic food, and outside picture sellers. We were tempted by one young lady's work, and bought five pictures between the two of us.
Margaret's husband Rod got out the tables and chairs, and stocked the coolers with beer and drinks. About 45 relatives were invited, but quite a few were on vacation or otherwise occupied so couldn't make it. The invitation said to be there for 2, because Lindsea (one of my great-nieces) had organised a photographer to capture the occasion. We thought it would be the last time when we were all together.
Carol (Kathleen's sister in law – aged 85) came first, brought by Liz (another of Kathleen's children).
I always enjoyed visiting with Carol who is very much with it mentally, although rather badly crippled physically. She spent several years teaching in Aldeburgh in Suffolk when she was in her 40's (well before I arrived here). Liz also had her granddaughter with her, Leila – who is 3 ½. She and her mother, Rosie, live with Liz and Dan - and Rosie, had to work until 4.
Then came Linsea (Janet's eldest child) and her family – four children in five years, and very well behaved those children were. The parents are very strict, I was told, but it was nice to see quiet polite children. The photographer was Linsea's husband's good friend, although he was charging $500 for his contribution on this occasion. A few days after the party we were all supplied with about 500 pictures on line.
It wasn't long before the photo session started, mostly being taken in the park across the road. He took individuals and family groups and various permutations of the family. 
In the meantime, the cab had delivered Kathleen, and with a bit of strong men's best efforts, they picked up her wheel chair and put her down at the back of the raised patio area, with Mary K on one side of her and me on the other. She looked better, but still not a word, not a smile, not a sign of recognition of where she was, or who we were, and her head was resting on her arm in such a way that it looked like she was just about managing to hold it up. Various people came up to say Hi to her, but she didn't respond. On the pictures she looks relatively normal. But she was like an automaton – opening her mouth for the odd bite of hotdog or a strawberry. But a glimpse of the real Kathleen was got when she, with help,  eagerly sipped her straw for the contents in her beer bottle.
Next came Mark, the only male in the family, and his daughter, her partner and two grandkids.
Then came Janet who is a nurse and lives the farthest away. We had a long discussion about
tattoos, which most of the young people sported. She said that she had had her eyebrows tattooed on and also a line under her eye, and it was the best thing in the world and I should try it. She did also say that she found this whole experience of her mother's slow but sure demise very hard. With her were her husband, two sons, her daughter-in-law and her latest grandchild, called Olivia.
Mary K's eldest son and one of his children were also there, and Margaret's son. 33 in all, not counting the photographer.
When the photos were done, we got down to the business of eating – either hamburgers or sausages, with buns, salads, pickles, berries, watermelon and as much to drink as you could possibly want. And it was Jacob, on of Linsea's children's birthday, so we had a gluten free ice cream cake to top it all off.
The sun was hot, and the food was good. The pictures turned out well, but Kathleen for all of her physical presence, didn't really seem there at all. The cab came at 5, and she was sent back to the nursing home.
Little by little, people drifted off. Gary, Janet's husband who we hadn't visited with shouted, "Nice not talking to you."
We picked up the pieces, and had a few more beers, and an early night.