Ode<2> my-crew (4) '22'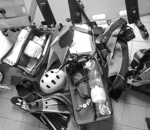 Sat, 17 Dec 2022
1 likes
It's a Rant………………
Could be a Rhyme…….
Definitely <NOT> trying to be a Poem with the Poet Masters here…..
That would be a poetic crime…
Written not correctly, in a bit of hurry, always on call, kit double checked, packed ready for the scurry…
Scribbled in my own style of prose that sets it apart
It's not what's written herein, it's my line of work and my crew that's the real Art
Whatever the case; Shakespeare be look'n down know'n I'm writ'n it from the heart…
Take a breath and follow me & my crew, game on, throw'n down, all in, finishing up another Season on Coast and Sea…….
Blink…..
Sunset, bow in the wind, throttles on full, fuel gauge redlined, tripp'n on the sprint home, in a glazed over stare
Kinda like in a Pink Floyd Zone but fully aware…
Glance'n back make'n sure my crew is chill'n, hold'n on tight…
Skip'n over white caps
Hold'n on course
Gotta a drift to the right
#2 Starboard RPM's ain't sync'd, run'n hot, so its a bit of a fight
Now I got two red lights, blink, blink...
The chill sets in with the wind as we're all soaked
I took another risk
Tired and hungry, hope'n I didn't make the wrong bet
It was another rescue driven on instincts, we got no regrets…
Even though I know the way, GPS & SAT Nav ain't gonna stray, pray'n to God again to just give me a break as I'm roll'n the dice
 Time, weather & fuel burn ain't look'n nice….
Don't mean to be brash
But this entire season has been move'n faster than Jump'n Jack Flash…
Thoughts a drift as I rewind of what was, has been and what I see
Baby I miss you save a kiss for me…..
Blink….
Come'n out of a situation where the other EU rescue players hate us, call'n us names, say'n we make-em' look bad, full of bravado, unruly cowboys that just wana be famous…
Governments bureaucracy, ego's, positions and status
Who's who, white papers and new European Union laws always come'n at us…
I've never seen no policy academics here and when something goes wrong, it's never their fault because they have no flaws, never a follow up e-mail and no calls….
But when it goes right we know how to lay low, no social media, stay away from the press, let the politicians and department heads take all the credit
And by the time it makes the evening news, it's all gone through an edit…  
I ain't point'n no fingers, ain't lay'n no blame
Fact is me and the crew, we just ain't the same….
Got another warning letter from legal cause we crossed the line, on an outta-bounds rescue in someone else's juristiction, could result in a penalty-fine, and threats of restrictions...
Even though everyone got saved alive, it's just more paper work, rules & reg's
 I'm past the point of bureaucracy dread…
Add it to the stack, it doesn't matter, I'll get to it when I get back
By the way…… We were there 1st…
By the time the others arrived, it could've been much worse …
Stick to the facts; leave all the whining, complaining and finger pointing in the back Jack
They know my crew is top rack, we're tried and true and we can take the flack….
Blink… 
I never asked for this job, they came at me and I said no twice, it's because my wife says; this is what you are so mind your manners and be nice and be make'n it right, it's the next generation you gotta train-up and keep in your sights
Uff….Just noticed, I still got blood spatter on my paramedic bag from last night…
But then again, this is the stuff that made us, I trained this crew, the next generation rescuers and they're gonna be famous…
Man on mission, life on the Seaway, down with my crew, doin it my way.
It can get rough sometimes, we all just gotta hold on.
Baby I'm com'n home, save me a kiss and leave the lights on.
Blink….
I ain't complaining, I love what I do, when I first came here it was a broken down system with no funding in the budget and leadership with no clue, surrounded by experts on cushy government benefits, I couldn't make sense of it, some of the lifers even mocked us, told me don't rock the boat, don't try to be the GOAT, said it would never work and this new program will never stay afloat…
Now were all tuned up make'n a run of it
A passion of professional public service and hav'n fun with it*
Stay'n alive and try'n to survive
Trained up like a professional sport
Shit*… there it is*….I can see the lights in the distance of safe port*….
A quick prayer;
Come'on God! Give me a few more minutes of fuel burn to spare
It's a passion of the soul, I really care……
Blink…..
My Power Rescue Girlz got in another scrap last week
Some boozed up Ruzki yachtsmen grabbed one by the back cheek during an assist call. They called it self-defense, he and his mates called it a brawl…
You can say what you want, they're working in a mans world, not try'n out to be no Barbie Dolls and never claiming to be heroes…
They got a sign on their locker room door, pirate-skull & cross bones with a caption;                "Warning Bitches with Fangs-Enter at your own Risk"
That's not a Dis…
As crude as that sounds, it's a next Gen Girl-Power thang, Bad Ass with Class, they got a fan club inspiring young girls, the next generation with pizazz…
My Rescue Cowboys are trained up right and tight, pro's in the know, calm, cool, steady,  liv'n on the edge
This is their place of mooring, tying em' to the kedged…
It's always a question if they can survive; the Christmas and New Year's parties this time of year the Season contrives…
They gotta blow off some steam, if you know what I mean…
Man on mission, life on the Seaway, down with my crew, doin it my way.
It can get rough sometimes, we all just gotta hold on.
Baby I'm com'n home, save me a kiss and leave the lights on.
Blink……
Rescues, assist, keep'n em calm, spot'n trouble before happens, First Aid, Band Aid's, Crowd de-escalation, alcohol & drug over doses, lost and found, migrants off shore, record setting temps, freak storms, climate change in full spectrum of all the extreme ranges
I gotta crazy ex-Mil-combat rescue helicopter pilot feel'n the changes…
Understaffed during the high season tourist surge
And then we had the Post Covid Lock Down Crazies
Me and the crew even delivered some babies…….
Blink…….
They wana cut the budget, we're work'n over time, team got thinned out over 2 years of Covid, that ain't a crime, our results are better than all the others, that's no Bravado, its all fine
People keep ask'n how do I do it (?)
No secret; it's just the way I'm designed…
It is what it is;
It's an ode to my crew, they know what to do, I'm just a Rescue Captain keep'n em trained on course and true…
In a flashback, now that I think about it, my wife was right, this is what I am
Now I see, it was meant to be and I'm proud of all of them…
Sometimes I'm look'n in the rearview, got a few ghost of the past, I think I made it right so the regrets pass, whatever the case I'm throw'n down all in with my team, lets see how long all this is all gonna last(?)
We're movin fast
So far, So good we haven't crashed
Fuck the Ghost of the Past…
I ain't sit'n in a Pub with my old mates, talk'n about the good Ol' days as if they were all great, still in the game, it ain't the same, no-one to blame, I don't need no social status or local fame…
Blink……
In court as the insurance and government lawyers are on a ramble, trying to figure who's at fault, where and when and did the rescue team make an un-necessary gamble, the time flies as I was in that Pink Floyd Zone, the Judge looked at me and ask;
"Sir, did you hear the question" (?)
…To my surprise…
In a moment of reflection
I snapped out of it, and answered back;
"Your Honor; all I know is"…
" We rescued a lost child in a princess swim suit and I wiped the tears from her little eyes".
"I don't know anything about parents on Prozac, champagne and their social media distractions"
 "It's was a rescue of love, call it a sixth sense, team search & rescue reaction"…
Man on mission, life on the Seaway, down with my crew, doin' it my way. It can get rough sometimes, we all just gotta hold on.
Baby I'm com'n home, save me a kiss and leave the lights on…
At the end of the year we got a few PTSD and burn out issues, the government physiologist just quit in the middle of a team counseling session, he says my crew is too rowdy but he learned a lesson
Now the budget people tell me I'm over expenses for another mental health wellness session
I've been in this game long enough to know a few techniques to deal with mental health, frustration and depression, and bring the (A) Team back for a next season resurrection
Keep'n it real with a sense of direction…  
End of the season, equipment check, repair list, upgrades, some self-made, and a few memories of the season adrift and starting to fade…
It's the team locker room clean-up that will give anyone a true insider view
 It's always a question; Whos worse, the bigger mess, the Girlz or the Guyz on the crew (?)...
The Lifeguard Captain is sworn to secrecy and never surprised…… (almost)
I'll never give it up, it's only for my eyes…
For the laymen, trust me, it's not for you
Ya, OK, I admit, you'd be shocked if you actually knew…
Wink & blink ;)
Man on mission, life on the Seaway, down with my crew, doin it my way. It can get rough sometimes, we all just gotta hold on.
Baby I'm com'n home, save me a kiss and leave the lights on…
I'm not gonna crash and burn yet, even though sometimes I feel like I'm out a breath
Still keep'n it real, still got the feel, pray'n for a little more time to steal…
It takes time grooming the (A) team and writ'n a rhyme
If you followed me this far it's a dam good sign...
Written from afar
A glimpse into the other side
From people who really care, thank's for come'n along for the ride…
It's what we do
It's an Ode to My Crew for Two Thousand and Twenty Two
Peace & Love for the Holidays from us to all of you...
Kris-out…………
;)
<wink& blink>