Hot Mommas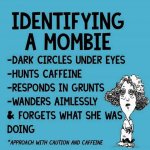 Fri, 31 Jul 2015
For all the mombies and their lost minds,
I'll tell you now – you're doing fine.
Breathless worries wrack your mind?
Are they eating? Speech behind?
Can they have this? Added sugar?
Salt and honey are baby murder!
Gluten-free and lactose friendly,
baby's not, but mum's too heavy.
No to juice cups, slings and huggies,
yes to bogies wiped on buggies.
Clothes aren't ironed and hair's a sight,
and that's just you – but you're doing fine!
Table's caught him unawares,
snooty mate's phoned social care.
Breastapo are at the door,
bleeding nips can take no more.
Secret bottle feels like crime,
but 'breast is best' they love to chime.
Feel too dried up or engorged now?
Unfit mum or milking cow?
Daggered looks in coffee shops,
muslin's slipped and out it pops.
Tit-milk spilt, no time to cry,
but hide the nips from judging eyes.
They may never sleep through the night,
but trust me, momma, you're doing fine.
Secretly happy he hit that kid?
Now his mum's just flipped her lid.
Gendered toys all off the shelf,
can she not choose for herself?
Didn't cherish every moment,
speaking lessons from a rodent.
CBeebies is babysitting.
It's only on while she's eating!
Rastamouse alongside food,
can he make a bad mum good?
They will say it's not alright,
But trust me, momma, you're doing fine.
Mother's guilt from your mum too.
Is this not what she went through?
You were an angel when you were this young.
If I did it wrong you'd tell me, mum?
Threenager tantrums every minute,
just find a cage and lock them in it.
You let them fall to teach them pain,
rewarded now with guilt and shame.
Wet the floor is what he'd rather,
you see he gets it from his father.
All these problems seem inherent?
Personally, I blame the parents.
They will say that it's not alright,
but trust me, momma, you're doing fine.