What's a group of hipsters called?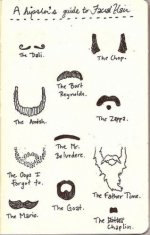 Sun, 05 Jul 2015
What's a group of hipsters called?
 
A flock?
 
A murder?
 
An irony?
 
Spilled from daddy's SUV they
consume Croque Monsieur,
(ham and cheese to me and thee)
in their designer shabby chic.
 
Coiffed tash, razored beard,
product hair the men proclaim the prices 'gay'
whilst bird's nest barnets
soil the perma-tanned posy-haired post-modernistic anachronistic feministic (altruistic) irony of what now passes for a lady.
 
One thin-lipped bard of Marks and Sparks
(although only in the BP part)
a D'artagnon of designer rips
bestows upon us
wet RP, dripping with clippings
from his TV library.
 
(One other sports some red punk boots
desperate to kick her hair flowers in at the hippy roots.)
 
Behind the pushed-in eddies of image wells
I mumble 'twats' as they self-obsess
 
and hear my father's voice,
nicotine thickened,
pouring scorn,
dripping acid,
on my own teen grunge metal dream.