Twice you have painted a lighthouse.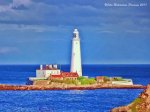 Mon, 08 Feb 2016
Let us start with the second time, the time that you mixed paint as slick and as thick as butter, your palette knife smoothing, scooping, sweeping shades of oily emerald, aqua and ultramarine. The time when you curved those soft rolling waves, the time when you merged the sea with the sky. The time when you painted for him, not for you. Now when you look closely the sky has ugly grey streaks (that sludgy colour he'd warned you about), the waves are frothy, foamy and the lighthouse seems small, insignificant. Do you remember when you first drew the scene, when the canvas was truly blank, when a mere pencil sketch could be easily erased? The lighthouse was to be your centre piece, the place of calm, the solid thing between sea and sky and the land some rugged flicks of burnt sienna. Concentrating, you layered empty shell shapes of white upon white until the lighthouse became almost three dimensional, a living thing; it became you, somehow lost at sea, yet still standing. Then you felt his presence behind you, smelt his warm acrid breath, heard him cluck and suck his tongue off the roof of his mouth, heard him think, (he must have thought) ;now how do I say this nicely? Phallic shaped nonsense, he eventually mutters, grabbing the canvas, scraping the white wet lighthouse like it was sour spilt sauce left on a chopping board into an empty sack. Again, he says to you.
Let us finish with the first time, the time when you are around seven, when you are more innocent, more trusting, more impulsive. (Before he was around). When it was just you and your imagination. You didn't need to prove anything or be something that you weren't. You didn't need to pretend to paint the sea as something it wasn't, if it was choppy and grey; you painted it choppy and grey. Do you remember the flick, flick, flicks of the waves, or the lighthouse that wasn't pure and white, it was as it was; discoloured like dirty dishwater. The colour of sludge. You wouldn't have cared if he had seen your hesitation, your lack of confidence, your need for acceptance. You could become lost in the moment, in the action, in the submersion of creating. Do you remember when your painting found a place, a spot, a kitchen wall or even outside your headmistress's office on a shiny wooden wall? The act of not caring, gave you what you want now; acceptance. Many years later it may even have found a new home, after being somehow lost in the system, above a bed in a psychiatric ward, would you believe it? You'll never believe it, they said to you, we found your painting after all these years. Again you say, I don't care if it ends up in the bin or in the place I fear I might end up. I need to paint again.