Yellow Ribbons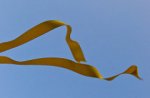 Thu, 12 Oct 2017
Yellow ribbons.
The school was at the end of a lane which ran from our house past the football pitch and the risen mounds of grass which we would whizz over on trays, not sleighs, when it snowed. We'd cross over a road outside the school where a lollypop man stood in the middle of the road, his arms outstretched at each side. Smiling, in his white, yellow and black uniform. He'd later hand us citrus coloured sweets, wrapped in clear cellophane, back in the days when he was allowed to.  Hard sweets that made your jaw ache.
    My first teacher had dark hair, flicked out like a Charlie's Angel. A beige below the knee swirly skirt, white shirt and a waistcoat, perhaps with an ethnic  design on the trim. Tan knee-high boots. Whether she actually wore that on the first day I'm not sure. I think a school class photo showed her wearing this outfit, so for arguments sake we'll say she had this on the first day too. She looked kind. And I have the feeling she would smell like Pears soap and marzipan.
    We were in the Wee Ones building, not the Big Ones, where my sister was. I had side bunches in my hair tied with yellow ribbons. Yellow was and is my favorite colour. Everything seemed weird on the first day. I was facing out towards the lane I had walked along only a few moments earlier when I saw her; my mum walking briskly back along the lane. She turned as if she knew I had seen her and looked over in my direction. I raised a hand as she did too and we waved at each other. Perhaps I was a little too enthusiastic or wasn't listening to the teacher, or may even have been standing up as I remember hearing the teacher shout;
    'Ellen will you stop that and pay attention.'
All eyes on me. Heat rose up my face as I saw my mum turn to walk back towards our house. I glanced around the room at all those other unknown faces, whose eyes all seemed to pop pop pop open looking at me like bursting pieces of popcorn.
      Around eight years later, outside this classroom is where I had my first kiss. Against a wall. A row of us all snogging. His name was Stu and I was glad it was him out of the gang. He was one of the best looking and had dark thick curly hair. But his mouth was huge. Mick Jagger slick with thick spittle. It took over my face, my cheeks, my little lips moving aimlessly inside his; like a fish catching its last breath.
Duffle coats
     When I finally moved up to the Big Ones, I came back to the Wee Ones to be a playground monitor. A job I felt proud of being given. I was buddied up with a Primary One kid. She had dark short hair and wore a navy blue duffle coat. I'd swing her round and round and I could just tell she loved me.
     Writing about the little kiddo in a duffle coat brings it all back.
The story that got tennis- ball- whacked in my face growing up. Sometimes I'd swallow that tennis ball whole and it would stay lodged in my throat. The story my mother and her brother, Uncle T, liked to tell. Those family stories that get repeated over and over, grow legs and arms and can stand up and do a sketch all by themselves.
    'Oh you were a wee pest,' Uncle T would say. 'Your mother just picked you up and flung you through the air past us and into the hall, your duffle coat still on.'
Then he'd laugh, like Bevis and Butthead. I used to feel deep shame when this story got told in front of people, like I had done something really bad.  Six months previous to this happening, I found out I'd spent a week in a hospital isolation unit. I was around two and nd a half years old and it was in the days when parents weren't allowed to stay overnight. My mum said the nurses put me into nappies, even though I had stopped wearing them at home and they'd tied my hair up with rags. They thought I had food poisoning from some dodgy café sausages I'd eaten earlier, but they couldn't be sure, so were doing tests after I had convulsed whilst sitting on a potty.
    When I'd come out of the unit, I wouldn't go near men, only my Grandad. My Dad apparently was devastated. I tried to bite him. Savage wee thing that I was.
   'The health visitor was called in,' Mum would tut, 'not for your wee baby sister but for you. The trouble was,' she'd continue, 'was that I spoiled you. I thought it would make you feel better, but I spoiled you so much that you became, well, spoiled rotten.'    
That's a lot of spoiling.
     'It was the best thing I ever did,' she said brushing crumbs off the table, lips pursed. 'Putting you in the hall, I got the old Ellen back again after that.'
Maybe I'd become rather feral, or maybe I was just terrified. Either way, as a mother myself, this story doesn't warrant a Bevis and Butthead type laugh from me. 
The blue coat
   A birthday, not sure which, maybe eight, nine  or even ten. The present; a pale blue puffa coat. I did not like it. It wasn't like the frilly socks I was used to getting or the sundress that tied into bows at the top. Besides the fact it was July and I couldn't really wear the puffa coat, it felt horrible on, cheap and nasty. For some reason I wore it that day, most likely I was told to and saying that I didn't like it was out of the question. 
   Then I remember her; mum, lying on a sun lounger reading the newspaper wearing Dads too- big moccasin slippers. I walked around the house, pressed up tight against the roughcast, pebble –dash stones, scrapping the jacket along it. She didn't look up. I don't know where my sisters were and my dad was probably away working or at the boozer. There is something that disturbs me about this birthday. Her ignoring me, being immersed in her own space. It felt like she didn't know me at all nor saw me.
   'You always had parties,' she'd say indignantly when I asked her about that birthday. 'I don't remember it happening.'
She'd say things like that with such finality I would question if perhaps it didn't happen, maybe I'd imagined it.
    Younger school years merge after that, one year blending into the other with only vague memories of saying long multiplication out loud, or little bright coloured bricks for counting, or games in the playground of British Bulldog, whispering with friends at the wall, eating my apple whilst they ate Wotsits or mini Bounty bars.
     Then a girl who had such pale gold hair, her face colour the same, a moon-face shape. Hair frizzy standing out. I remember queuing up round at the Big Ones playground waiting to go inside after break and seeing her. She saw me stare and poked her tongue out playfully at me. I kept on staring, something about her seemed to mesmerise me. She cocked her head to one side and looked back at me, as on and on, I stared. Eventually she looked upset, angry even, gave me a scowl and looked away. I'm not sure why I did it. I knew it was rude to stare. But that was before any of that old garbage mattered to me.
Shell suits
     In the same playground location, where we would sometimes play rope games, Oranges and Lemons, double ropes and the likes, I recall being behind a girl Maggie. Her curly long hair was dark and matted. She was the window cleaner's daughter and had always seemed a nice wee thing, quiet, wispy. I kept looking in her hair and whether it was real or not, I thought I saw a spider. Something moved. It could just have been the wind, like I say her hair was pretty wild but I must've shouted out or told a teacher as the next thing, we are all marched to the school nurse for head lice treatment. Maybe I did see something. Maybe they found something. Either way, Maggie never looked my way ever again, not even in High School.
   Also all of our shell suits got stolen from our washing line after Maggie's dad washed our windows a few months later and the saying in our family was that they would all be wearing them now. It was never confirmed that her dad took them, and to be honest who wants a shell suit really? But the seed was planted; he was a thief. And perhaps a seed was planted in Maggie too, that she was a bit icky or perhaps it was me who was the icky one.