Blue Nun and Babycham (Recycled)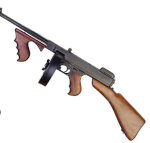 Mon, 01 Apr 2019
https://www.abctales.com/story/luigipagano/blue-nun-and-babycham
Written in the same format as the above but with a different neaning
Blues, Guns and (maybe) Sham
There is nation that loves guns.
It is for defence, they unanimously cry.
One look at us and the enemy runs,
but if he doesn't we shoot the bad guy.
Even women who are full of charm
brandish weapons on the firing range
as they don't think there's any harm
and don't believe that it is strange.
Though in the sixties it was all the rage
to talk of peace and flower power
in history's books there's a new page
saying that the world has turned sour.
What is needed is a radical solution:
disenfranchise those in opposition
who are clamouring for a revolution
and just engage in a war of attrition.
Let uniformity of thought be the norm,
free-thinkers have to be curtailed;
if to our principles they don't conform
in our mission we will have failed.
We must stay close to our allies,
send them arms so that they can
fight the foe who is telling lies
and belongs to a cult or a clan.
Freedom must be the watchword,
for the few but not for the rest
of the uncivilised world.
We are unique and we're the best.
 
© Luigi Pagano 2019