King of the Road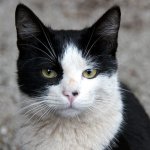 Sat, 11 Jan 2020
I wanted to call him Tobias
but the children objected,
thought it was too elitist
and shortened the name to Toby.
Despite this, he retained his nobility.
He strutted with his head erect,
an upright tail and a monocled eye.
 
His mobility would later decline
but when young he got up
to all sorts of capers.
He knew what went on in the world
although he didn't read the papers.
Learnt when to condescend
but could also pretend to be common.
 
He mixed with the hoi polloi.
whose riotous behaviour was fierce.
Didn't fight. Was a pacifist (or a coward);
discretion is the better part of valour.
He was a tom and he got around,
although he's gone he can't be forgotten,
Toby's clones populate our street.
© Luigi Pagano 2020