A Late Arrival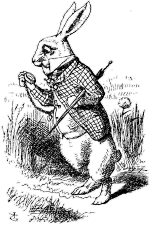 Fri, 28 Aug 2020
2 likes
"Oh dear, Oh dear, I shall be too late"
I felt just like Alice's White Rabbit
when I tried, but in vain, to locate
the key to the door of the room
that I knew my friends would inhabit:
a place which was known as "Zoom".
 
Was eager to join and to participate
in a virtual literary extravaganza
where poets would demonstrate
their skill with elaborate stanzas
and prose writers would regale us
with stimulating, fancy storytelling.
At last I got in and a large crowd
of talented people was in attendance
either listening or reading out loud.
There were some I already knew
through their writings but never met
like Mark Burrow, Rhiannon and Noo.
It was very friendly and time flew
but as Liza Doolittle in My Fair Lady
we 'could have danced all night'
and 'still have begged for more'.
Such was the pleasure and delight
we derived that it needs an encore.
© Luigi Pagano 2020