A Lucky Man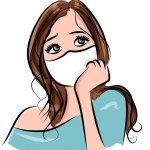 Thu, 15 Apr 2021
1 likes
That fortune is fickle
cannot be denied
but today he felt lucky;
like that man who broke
the bank at Monte Carlo.
Many times, on bended knees,
he had proposed to his girlfriend
but without success.
Now, at last, she decided
that the answer was yes.
He knew that being together
would be a life of bliss,
wanted to seal the occasion
with an affectionate kiss
but it wasn't an easy task:
because of the guidelines,
they were two metres apart
and she wore a mask.
© Luigi Pagano 2021