Two Gentlemen of Verona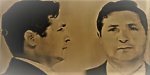 Sun, 19 May 2019
They both hail from Verona
but now one lives in Milano.
A nouveau rich 'industrialist'
goes by the name of Ivano.
 
Everyone shows him respect
and call him by the title Don.
Payment for his protection
is essential, a sine qua non.
 
The owner of an Alfa Romeo,
a 5-door hatchback Giulietta,
believes he's been slighted
and he's intent on vendetta.
 
He's determined that his rival
will not at all costs be excused
for not accepting a generous
offer that cannot be refused.
 
With contradictions between
his public and private persona,
the other one is no gentleman
even if he comes from Verona.
 
The mortal enemy of the Don
(and a former fellow citizen)
of the beautiful island of Sicily
he is a menacing denizen.
 
The two powerful antagonists
have never seen eye to eye
and it looks almost inevitable
that either or both will die,
 
One thing can be certainly said:
because they're part of the mob
neither of the two can ever be
a Juliet's chosen heart-throb.
© Luigi Pagano 2019