Wind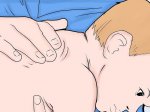 Mon, 11 Feb 2019
The young mother is anxious
but impassive, like a stoic;
she believes her young baby
might be suffering from colic. 
 
Grandmother who is at hand,
and supporting her daughter,
declares that what is needed
is a dose of gripe water. 
 
Grandad disagrees and says
that it is trapped wind and not
the diagnosed intestinal pain
which troubles the little tot. 
 
Air bubbles become trapped
in the young infant's tum
if he feeds from the bottle
or the breast of his mum. 
 
Rubbing or patting his back
is one way to burp the kid
and when the air is released
of the irritation he'll be rid. 
 
It is good that her parents
came to the girl's assistance
and she was able to benefit
from their own experience. 
 
© Luigi Pagano 2019