sometimes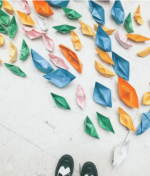 Mon, 23 Oct 2017
3 likes
Sometimes it's forgetting, like it's nothing
like it's silence.
Just blank
recollection.
And then it comes back, an attack
of red wine, a droopy eye
and my own powdery meds
sliding between my teeth.
There's a hand on my shoulder,
on my knee. A fire-lit interaction,
an exploding star, until black.
You forced your way in. Stretching, expanding
until the world became so big
the horizon vanished.
Sometimes I want to tell everyone I meet,
but hands rush to my mouth as if I'm about
to utter vomit.
I think it's the R-word.
R?
You know: R.
I wondered if being a statistic would
pull me back in. We're a gang, we're sisters.
They'll bring me a blueprint for carrying on
the rest of my life.
They showed me how to scream but no one needs
to see a wound just to remind them that blood exists.
Sometimes it feels like a dream that
serrates the body
long after waking.
It wasn't a date
I wouldn't date him.
Sometimes it's everywhere, like a breeze
but close on my neck
like breath.
The arms, the hair, the sweaty chest.
That body, a flesh-lid keeping me in.
Saying "no" never really worked for me anyway.
Sometimes there are moments of false lucidity:
I'm sure he didn't mean to
But at work I escape to the loo and practice
punching at nothing. I hate men
I hate them all.
Sometimes I feel the need to wipe myself out
Stop it. It's not everyone. Stop.
Sometimes I want to stamp
out my femininity.
Tear out my weakness
and let it bleed
under a running tap.
I am this now: a cavalcade
of shame and looking over my shoulder.
A scrappy thing hoping to turn pain
into a map or a poem or both.
You are this now: constant, uninvited.
I can burn you away into nothing,
into my skin but you remain
inexorable
a relentless thud
How have you been?
I don't know.
No?
No.
No.
No.