Empire State (Part One)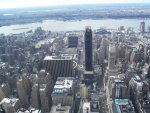 Thu, 29 Oct 2020
Halloween, Hallowe'en or All Hallows' Eve is an important date in the Christian calendar. Probably based on Pagan tradition, it a time of remembrance of the dead and departed. It's also fertile soil for the imagination - a time for figurative sleight of hand and real monsters. The trick is working out which is which.
The 17:25 from London Heathrow landed safely at John F Kennedy International Airport. Disembarking, I took my first look at the city that never sleeps. The airport was busy, of course. Passengers thronged as passengers do, arriving and departing, heading for their next destination, whether business or pleasure. With customs negotiated, I took a yellow cab to the "Park Central" hotel (closer to Central Park than Times Square on 7th Avenue).
First time in New York is a lot to take in. Skyscrapers don't get the justice they deserve on television and in movies. It's hard not to find yourself staring out of the cab window and craning your neck to look upwards at these modern monoliths. I felt like a kid in a sweet shop having finally arrived - New York was another tick on the travel bucket list. The cab navigated the busy streets, the driver asking the questions you would expect a cab driver to ask.
"Where you from?" ("from" came out as "fram" in native New Yorker).
This was the go to question of just about everyone I met in the city.
"Birmingham in the UK?" I replied emphasising the UK as though he may not have heard of it before.
"Yeah, I know of it. North of London?" He wore a sailor's cap and had yellowing teeth, I imagine from one too many roll ups. (I thought "North of London" was a safe bet for a cabbie over here).
"You got it." I assured him feeling like I was picking the lingo up already, stopping short of trying out some pigeon Yankee.
The rest of the journey was idle chit chat about generally forgettable stuff as we pulled up outside the hotel. The exterior was festooned in a canopy that reached out to the street providing cover for the revolving glass door that took guests to the lobby. The cab door had been cordially opened by the doorman dressed in large, grey overcoat. Wordless initially, he politely offered to take the luggage from the boot ("trunk" to Americans). I said I was fine like people do from Blighty, not wanting to put anyone out (or cough up for a tip).
I was in town for just a couple of nights. Checking in at the front desk, my room was 10 storeys up. I had made the booking in the hope that, at this height, things would be quiet. No such luck as the drafty window did little to block out the sounds of the traffic below, punctured by screaming sirens which were a regular feature during my stay, of anyone's stay. The room was small and functional with two single beds, neatly made with the obligatory telephone on the small table next to the bed nearest the window. I checked my watch.
I needed to be at the Empire State Building by 11pm to satisfy my pre-booked ticket. I had time to shower and freshen up. I had a look at the prices on the menu at the hotel restaurant The menu was lying on the small table and chair next to the window along with a hotel directory and a few tourist leaflets. "Eesh" I thought without speaking. With that, I headed out into the hurly burly of a New York evening, in search of more bang for my bucks.
There are many restaurant/diners that live on the streets of New York. Several perch themselves alongside street intersections and it was just such an establishment that I availed myself of.
                                                    ~
I was given a table for one almost immediately, ushered to and offered a chair by a tall man with sunken eyes who was front of house, manning the lectern. I glanced at the menu, popping it back down on the table just as quickly. "Are you ready to order, sir?" the waitress asked with a rising pitch as she ended the sentence. She seemed surprised and was probably more used to enquiring about drinks before ordering food. The nametag on her blouse announced her as "FRANCINE". She smiled, almost perfunctorily, probably mid shift of another day serving demanding patrons. Her flame red hair was neatly tied at the back; she looked competent with her blues eyes and red, gloss lipstick.
"Steak and chips…fries….and a glass of house red, please". She tapped the order into her tablet. "Can I have the steak well done?" It was the dullest of requests but I wasn't one for experimenting when it came to eating abroad. She turned and left, spinning on her heels, en route to her next table.
I scanned the restaurant which was mainly full. Tonight's customers/guests varied from couples to families to small groups. I was the only singleton I could see. I thought of my friend Sam. We'd been friends from junior school upwards. Now both late twenty somethings, I considered Sam something of an enigma. We had both left school at age 18. I had gone to work for the local council – hardly stellar but it paid the bills. I know Sam's dad was a property developer but I couldn't see that Sam himself had ever worked. He would disappear for weeks on end. When I asked him where he went, he would only ever reply "Just business" and close down that particular topic of conversation. Sam was more forthcoming about other aspects of his life – like the fact he was a white witch.
I don't know when he had started playing around with witchcraft. He would mention it occasionally, semi-jokingly. I was never quite sure whether he was messing about until I went around to his flat one evening. The front door had been slightly ajar when I arrived, making me think he may have been burgled. I tentatively pushed the door open. On entering, I could see the shape of a man sitting, cross-legged by the looks of things. The only light was from a couple of flickering candles on the floor, either side and in front of the man sitting in middle of the living room. Sam's was a small flat with only a tiny kitchenette that adjoined the lounge and a bedroom. "Hello" I said, a cross between a whisper and a shout. At that, I saw what looked like a bird flutter to the ceiling from between the man's legs. I groped for the light fader and spun it firmly. Sam turned and opened his eyes. I looked around frantically trying to find the bird.
"New pet?" I enquired.
"Hallo Mark." Sam welcomed. He preferred to use the greeting that came with an "a" rather than an "e" as it was more theatrical in an underwhelming way.
"Not sure what you mean, bud."
"I saw something fly into the air. Just now."
"Must have been magic." He smiled, mischievously.
It had been another night playing cards in Sam's flat that led to my trip across the Atlantic. Mark played poker for matches, you know, the Swan Vesta kind. After a couple of hours of drinking Wild Turkey (bourbon), all of the matches were in the pot. I looked at the cards in my hand and glanced up at Sam, squinting with the air of a gunslinger. Sam looked at his hand, stared back at me and said "If you win then I have something I can use as collateral". We called it and my three kings won the day. A few days later, flight tickets arrived along with timed admission to the Empire State Building. He had recommended a hotel and left that with me to sort out. I had called Sam and said I couldn't accept these. How could he possibly afford all this when I didn't even know if he had a job? Sam insisted and said if I didn't accept he would cast a spell on me. In any event, he had gone on to promise a special spell anyway on the stroke of midnight at the top of the once, tallest building in the world. I had laughed it off with the slightest of niggling doubt as to whether he meant it or even could cast a spell.  I mean, are spells a real thing?
                                                                       ~
So there I was, about to go through the doors to the viewing balcony on the 86th Floor of the Empire State Building (ESB). It had been a long wait to gain admission through the Art Deco lobby on 34th Street and a colourful, informative tour of the tower by the guide. I pushed open the doors and strode onto the viewing platform. The first thing that hits you is the breeze; it's noticeably stronger at this height (it is 443 metres from street level to the very tip of the building). It's also pretty cold in autumn.
I walked over to the edge to look out through the panes of reinforced glass above the cross-hatched fencing that surrounded the deck. Manhattan at night was a spectacle. With the city lit up, burning untold amounts of electricity, the Hudson River was majestic in the distance. There were so many sights to see up here. On a clear day, five states are visible from the ESB. I had bought a guidebook back home and planned my itinerary for tomorrow. I knew that Macy's was visible along with Madison Square Garden. (The Chrysler Building together with Grand Central Station and the Statue of Liberty were also on my list). I was nothing if not conventional when it came to sightseeing.
I pulled out my mobile phone and glanced at the time – 23:59. I checked for messages. There was a text that had pinged through without me noticing. It was from Sam – it said "Close your eyes."