In a Land of Magicians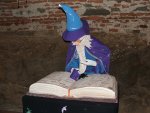 Sun, 22 May 2022
Audio version at: https://soundcloud.com/user-62051685/in-a-land-of-magicians-mp3
If you believe in something enough, can it become real?
In a Land of Magicians
I watch your sleight of hand,
the tilt of a black top hat,
I see doves fly into the air,
white wings fluttering, gently.
A journey into splendour, wonder,
where reality and illusion fuse,
belief blended, suspended in time,
Cabaret Voltaire - midnight show.
A mind alive with thoughts,
an escape plan born of hope,
from mundane, existential doubt,
to a land of eternal conjuration.
If you wish upon a twilight star
and close your eyes, whisper,
maybe there is a world away
where magic holds mystic sway.
I know I may have been there
in the twinkling of a child's eye,
when I ventured on so quietly
from the vagaries of a stoic's life.
Where wands make trails of light
like fireflies in an obsidian night,
playing cards fall from skies as
a final, amethyst curtain lowers.
Image free to use via WikiCommons at https://commons.wikimedia.org/wiki/File:Saluzzo-Castello_della_Manta-mag...