In the Vale of the Shadow King (Part One of Six)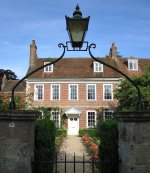 Sun, 18 Sep 2022
1 likes
In the Vale of the Shadow King (Part One of Six)
Billy Williams had always wondered what is was about his grandparents' house. He had been visiting for years now with a constant sense of wonder lurking like an omnipotent stalker. There were secrets here. Many things unsaid. One day he would uncover the truth. One day soon. Time was watching. It always was.
Billy sat patiently at the long, wooden table in the dining room as dinner was served. He watched as his grandma carefully placed serving dishes down for those present to help themselves. The aroma of roast potatoes, vegetables and lamb filled the air like a warm blanket. Behind him stood a Welsh dresser with China plates on one shelf, ornaments filling the others giving the room its antique feel.
"Please…help yourselves." Declared Billy's grandmother Bronwyn. Wearing a blue dress tied at the waist with a silk bow, the young's boy's grandma looked the younger side of seventy. Her hair was all curls, mostly grey these days. Her eyes were a blaze of blue, alive, sparkling with kindness, her face a comely, rounded one that bore the weather-beaten aspect of spending so much time out in the countryside. Rattling and clanking sounds accompanied the transfer of food from serving dishes to plates.
Billy had been visiting his grandparents regularly throughout his childhood. Now aged twelve, visits to this off-the-beaten-track part of the Gower Peninsula were a welcome part of his life. As soon as the summer holidays started in July, a trip to Wales with his mum was one of the things he looked forward to the most. Billy's father had left them just after he was born. His mother didn't speak about that much. It was just the two of them taking on life's challenges.
"So how are things at school?" asked his grandfather, Rhys. Billy thought of his grandpa as an austere, officious man. He exuded authority. Looking up from his plate, the young boy glanced across the table noting the long, gaunt face with hollow cheeks of his septuagenarian relative. His hair was wispy strands of white, his eyes piercing green. Tonight he was dressed in a red and auburn, chequered shirt and brown trousers, his slim demeanour made him look well for his years. There was an aura that emanated from his grandfather; an electricity, a kind of power.
"Oh not bad, grandpa. I start year eight in September. I like history." When asked about school matters, like most children his age, he was economical with detail. Billy's voice was once bordering on falsetto but was dropping to a lower scale as he approached his teen years. In contrast, Rhys would speak in clipped sentences, pronouncing words carefully in a low-pitched, drawn-out Welsh accent. His intonation meant that his tone lowered mid-sentence, picking up either side.
"He's doing well, dad. He's going to be a Premiership footballer….or a lawyer. Then again, maybe a historian." Billy's mother, Marian, was close to her parents. They had been there for her in those difficult times after her boyfriend did a moonlight flit when Billy was born. Bringing a child up as a single mum in Hounslow had its many challenges. Her parents had helped both financially, practically and spiritually, often at the end of the phone to give advice. Her father had been a senior partner at Williams, Penrose and Davies, a law firm based in Swansea. Rhys was the ultimate pragmatist.
Marian smiled at Billy sitting next to her and ruffled his fair hair. Her son shrugged the hand off with a grimace. He railed against the formality of tonight's settings by wearing a tee shirt with a picture of Harry Potter on the front fencing with a wand, ripped, blue jeans and branded trainers. His mother was pretty with dyed red hair. Her face was on the pudgy side but her twinkling, hazel eyes and luscious hair that reached down to the nape of her neck made her attractive. In contrast to her boy, she was conventional in her white blouse, black skirt and tights. Short for a woman at just over five foot tall, she made up it for it in her assertive manner which was a prerequisite for someone living in a London suburb.
There was laughter at the hesitant statement about Billy's future as the boy kept his head down and forked another piece of lamb. The room was a mix of rustic and formal. Whilst the Welsh dresser held pride of place, silver candelabras sat at either end of the table whilst lamps with brass attachments jutted out of painted walls creating a low light. The house was more a mansion. It had a sweeping, central staircase with a carved, handrail that led to a wooden balustrade off which ten bedrooms sat. Visitors often found the ancestral home imposing with the middle section extended out further than the rest of the building. Georgian windows either side of a prominent, white front door with ornamental, iron knocker made the place look very grand. The rest of the house was set back from the grounds at the front, gravel driveway with a circle of flowers and a stone statue set in the middle flanked by mowed lawns and woods all around the perimeter. In times gone by, servants would have maintained the estate. Nowadays, the Williams family used occasional and part-time help.
Dinner was a slow affair. The family liked to take their time, invariably exchanging small talk and anecdotes about their respective lives. Both grandparents were retired whilst Marian was an office manager for an IT company. Beyond work or retirement, they would speculate about Billy's time in school and the latest rural gossip from this bucolic part of Wales. The youngster, wedged between adults, found the whole thing boring after a while. He just wanted to lounge on his mobile phone and play games. One of his favourites was an adaptation of a fantasy story called Locke and Key. The concept of an old house full of mysterious keys that led to other dimensions was enthralling to kids of his age. Which was when he spied a metal key with an ornate swirl at one end and teeth at the other. It was lying flat on the Welsh dresser behind his grandparents. Billy's mind raced wondering what the key was for. Of course, it could be innocuous enough and was maybe just the key that opened a back door or something. But then again…
The young man looked up from his plate and threw a serious look at his mother.
"I just need to pop to the toilet." He muttered pushing the chair back as he rose. Circling the end of the table, he drifted along the side of the dresser, discreetly slipping the key into his pocket with a sleight of hand as he disappeared into the hallway where the downstairs lavatory was.
****
These days Billy had a bedroom of his own. Gone were the times he had been made to share with his mother. He stared intently at his phone scrolling through posts on Instagram. Jimmy Garton had posted pictures of his black cat playing at the top of a cat tree with several boys taking pot shots at it with their Nerf Super Soakers whilst Jenny Warburton had updated the site with images of her latest dessert – chocolate ice cream with wafers. Further controversial posts were just a swipe away.
The light from his phone illuminated the immediate field of vision but, otherwise, the room was in darkness. Lying on top of bedsheets, Billy noted the time from his phone as 22:03. His curtains were open revealing a view of shadowy trees and fields in the distance that led to Three Cliffs Bay and the Irish Sea. It was a chilly night with moisture in the air. The moon sat stoically, partially obscured by lines of clouds, still managing to spill light out over the countryside.
In the bedside table drawer next to Billy hid the key he had acquired earlier. He had expected someone to have mentioned it by now. A knock on the door would be followed by an angry delegation filtering into his bedroom demanding the return of the item that had been minding its own business. That seemed unlikely now as everyone had gone to bed. He felt a pang of guilt. Some time ago, an agreement had been reached with his mother that they would always be open and honest with each other. There would be no secrets. This had come about because of a number of incidents that had resulted in Billy getting into trouble. At nursery, aged four, he had stamped on a dinner lady's foot and two years later, Marian had been called into a classroom when picking her son up at the end of the school day. The teacher had a duty to explain that Billy had been restrained following a tantrum in front of the entire class.  There were other incidents that had embroiled Marian's son and, after numerous showdowns and heart to hearts, she had finally got him to agree to discuss his feelings regularly and to not keep anything from her. In return, she promised to do the same.
The house was quiet with just the odd creak that came with a building of this age. Billy thought about the key. There was a bedroom along the landing that was always locked. It had always been locked. No real explanation had ever been given as to this state of affairs. This particular bed chamber was out of bounds. Perpetually had been as far as he could remember. So what if the key opened the locked door? If it did, what secrets awaited in the mysterious room? The feeling of subterfuge remained but had been usurped by the temptress of intrigue.
Billy shunted his legs to the side so that they hung over the edge. The rest of him followed. He scooped up the key and made for the door. He tiptoed across the beige carpet so as not to make a noise. He didn't want anyone finding out that he was out and about at this time of night. He could always use the excuse of going to the toilet as there was a bathroom on this floor although that would beg the question as to why he simply hadn't used the en-suite in his bedroom. He scrambled to think of a more watertight rationale, desperate to stay under the radar as he crept along to the bedroom at the end of the corridor.
Part Two at: https://www.abctales.com/story/marandina/vale-shadow-king-part-two-six
Image free to use via WikiCommons at https://commons.wikimedia.org/wiki/File:57_The_Close,_Salisbury.jpg