Reparations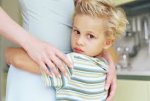 Sun, 04 Jan 2015
The boy's hand is tiny within her own.  She knows that she is pulling him faster than he can go.
He'd tried to hide the blood on his face and his smooth knees scratched to layers like cut onion.  "Who did this to you? Who did this to you? Who did this to you?".  When she shook him he felt like a coat in the wind.
His feet slap on the concrete steps up to the school door.  He is saying no, crying so hard she can hear his breath catching inside him like a slammed door.  
Hammering her fist on the front desk she feels impregnable; immense.  Her voice a gale blowing through her burns her throat : "Don't you tell me to calm down.  Get me the fucking head you snooty fucking cow," she shouts.
She cannot look at him.
Every time she paces past him he raises his arms to be hugged.  She cannot stop.  So angry; she knows even a caress from her will strip the skin from his tiny body.
And in autumn twenty years ago she cries through the taste of blood and embarrassment and nobody takes her up to the school to have words.