Blackpool Mon Amour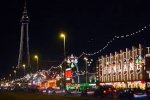 Sun, 13 Sep 2015
I'd tried to get drunk.  God, how I'd tried.  I'd started around four in Brandy's mam's house, sat on the settee in what her mam insisted on calling the parlour.  In front of the telly, surrounded by the melee of dogs and cats that belonged to Brandy and her mam, half-watching a repeat of Strictly. Cider bottle between my knees and the parrot in the cage in the corner, sharing its thoughts.
"Dead.  Dead."
"Never trust a parrot", I said to Brandy, when she came to sit next to me. "they always know stuff they shouldn't."
"Oh, ignore him, the old bastard", Brandy answered.  "He's got his language from soap operas and police procedurals.  Me mam should really move him away from the telly."
I'd known Brandy for a few years, teaching in the same school as her and we'd been out a good few times.  When she invited me up to her mam's in Barrow-in-Furness for October half term, I thought it'd be a laugh, so of course I said yes.  She'd mentioned the hen do for the Saturday night, but I'd not given it much thought. It was the sister of one of Brandy's school friends from when she was a kid and the plan was we and a bunch of other women were going to go from Barrow to Blackpool for a wild, wild night.
When I thought about it properly, the idea didn't really grab me.  I wasn't much of a one for wild nights and besides, apart from Brandy, I'd know no one.  So by the time we were on the coach, driving down the M6 in the twilight, I was hoping I'd be oiled enough to come out of myself – or at least not to be the usual, spiky me I was when meeting new people.
The coach was warm and filled with the battling scents of conflicting perfumes.  All heavy weights and like their wearers vying to outdo each other.  Brandy was sitting further down the coach and I'd ended up in a window seat, with the bride-to-be's aunty sat next to me.  Her perfume, like her outfit (all tumbling boobs and lilac) was in your face, and in the close air, I felt dizzy and a little nauseous. 
Before she'd moved down the coach, Brandy had introduced us, but I'd not caught the aunty's name and felt too embarrassed to check with her what it was.  She'd asked how I knew Brandy and I'd answered, but after that, we seemed to have little or nothing else to say to each other.  Besides, there was more drinking afoot.
The whole coach seemed to have a bottle of wine or beer or vodka in their hand.  The aunty took a bottle out of her clutch bag and began swigging it and spilling it in equal measure.  She didn't ask me if I wanted any, but when a bottle of white wine was passed forward from the back of the coach, I necked it before passing it on.
I watched the motorway being eaten up, mile by mile.  The weather was surly; bleak even.  Lancaster University's garish block colours came and went and yet we seemed no nearer to Blackpool.  I felt sanguine about this – a sense that I was used to this set of circumstances and that getting off the coach would bring a different set that may be more horrid than the here and now.
The women were getting more larey and so the screeching, shouting and singing was getting louder.  I felt very remote – awkward and not part of what was going on.  It almost seemed that the more I drank, the less drunk I became.  It was an odd sensation I've not had before or since.
When someone suggested singing 'The day we went to Bangor' ("We're not going to fucking Bangor, you daft mare"), I gave in, put my headphones on and began listening to some tunes on my phone.  I was going through an early 80's electronica phase and the stern beat of John Foxx's Underpass perfectly suited the grey, pass-pass of the motorway bridges.
To be honest, I felt a snob!  I knew I had no right to feel the distaste I did for the women and their night out.  But I did feel distaste and then a kind of shitty dislike of my own twattishness. Distaste and dislike moved in time with the rhythm of the road. 
I think, looking back, I could have disappeared up my own arsehole in circular thought if the aunty, who was lolling heavily on my shoulder, hadn't nudged me in the ribs.  So I took off my headphones to listen to her.
"I said, you're a bit old not to be married, aren't you?  I noticed you haven't got a ring on, so when do you think you'll get married?  Haven't you got a fella?"
I thought quickly about going into my usual diatribe about the institution of marriage and just as quickly dismissed this as an unacceptable response.  She was looking at me intently, but I'd only got as far as "er", when she stood up out of her seat, shouting, "Blackpool, we're here.  We're fucking here.  Lock up your pretty boys."
In the dark of the evening, we filed off the coach. Well, most of us did.  The bride-to-be didn't, on account of being about as rat-arsed as it was possible to be on a one hour, forty minute journey. 
"I'm staying here on the coach.  I'll be right.  Have one on me and don't do anything I wouldn't", she said sagely, before sinking on to the front seat opposite the driver.
Blackpool presented the cold and unsettledness of its night. The illuminations were on and we weaved up the golden mile, like we knew where we were going.  The lights were hideous and impressive at the same time.  The clink clink of the bulbs hitting against each other in the breeze reminded me of the sound of boats' rigging in harbours; but even with the ozone fresh in the air, Blackpool didn't seem like the seaside to me.
The plan was for us to stick together, but if we couldn't, to meet up by the coach at half past two in the morning.   I tagged along with the group, stepping next to different women, sometimes Brandy, but never seeming to meet the happiness and daftness of their mood,
We hit the pleasure beach first and spent a couple of hours in a wild mouse-big one-ghost train- candy floss-fizziness.  We walked up past the odditorium and I said that I wished it was open, so we could see the freaky things inside, but no one else seemed that interested.  We bought fish and chips and ate them on the promenade and nothing tasted as good as they did ever. An odd thing was happening.  Despite me, I was beginning to enjoy myself.
When we went into the nightclub that at least four of the women already knew, weirdly, I was up for the experience. The alcohol and dub step swirled and I danced like a bitch.  Not even the old jokes ("get your coat, you've pulled"), the offers of never before seen anatomy ("you'll not see a dick as big as mine this side of Newcastle"), or the history lessons ("come and have a look at my Prince Albert; named after, er, Prince Albert, who had a cock ring too"), could take away from the experience.
I left the club surprisingly reluctantly and looked on the tower's priapic majesty with something close to regret as we got back on the coach in the chill of very early morning.  The bride-to-be and the driver both had the same look of secret, shared pleasure on their faces and I wondered what sights the coach's brushed seats had been privy to in our absence.
The aunty lolled on me again on our way home, gently snoring all the while, but I didn't mind.  In fact, I found it quite soothing.  By the time we hit Barrow's streets in the monochrome and silver light of dawn, I was in an electronica jam again, listening to early Ultravox's Hiroshima Mon Amour.  I loved the sexy sax and the forlorn romance of the lyrics:
Meet beneath the autumn lake Where only echoes penetrate
Walk through Polaroids of the past
Future's fused like shattered glass, the sun's so low
Turns our silhouettes to gold
Hiroshima Mon Amour
When the sun began to rise over Barrow's back to back houses, under my breath, I sang along, replacing Hiroshima with Blackpool and smiling to myself.
https://www.youtube.com/watch?v=Q3kQr4lAcsA
(Lyrics and song by Ultravox)