Bristol Blue Glass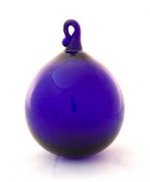 Tue, 03 Jan 2017
3 likes
When I saw the missed calls, I fed my dread with sugar
Bracing myself with gulps of vanilla milkshake and chocolate wafers
Although I should have known what was coming
Because I've known it for years.
You didn't know
With your half-finished crossword
Your broken bowl of cereal spilling on the floor,
And people will call that a mercy.
Straight after, we walked back to the hotel
Stopping on the way at a shop selling
Bristol blue glass
I picked up a bauble and looked through it
At the kind, bright blue world.
At reception, we sat under a picture of Twiggy with clown makeup
The manager wished me Happy New Year and I couldn't reply
But I'm glad you managed to miss my birthday - that was thoughtful of you.
Your house where you ruled over a wife and children
Is a mausoleum.
Photos of my own children, babies still
In jumpers that haven't fitted them for ten years
Threads caught in the fabric of the place.
And I won't wait to write this or re-evaluate
Because this is real.  This moment, these words.
Not re-invention or transformation,
The softening, sickening protocol of grief.
Instead I will write it out
Looking for myself in all the rooms I've hidden in
And I will feel
I don't know what I will feel.
All I know is that
Tonight my DNA that was your DNA, is tired
And this is not an elegy
Not a tribute.
I know you're no longer on the earth
You're in the room where I've locked you
I hope I won't visit you very often.