Hamerkop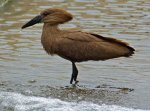 Thu, 01 Oct 2020
Today I will not die again,
I go on and on,
inherited by a passage of witches;
here is the morning light, violet
to cover vanished moon, a sleight
to daily wake to, 
alert to my biology. 
I am ice and I am water;
a confusion of states
in my flexible chemistry. 
 
I have never been myself,
and you might be right to ask 
what we could be then,
if not ourselves: yet this day
I am a hamerkop,
feathered by a thunderclap,
mother to lightning - 
in the concentration of static,
my physics branches from the sky.
I will wade a mangrove,
fish for the secrets of storms,
I will bury my name,
an egg for you to dig for,
I will build nests of ions
that bristle with electricity,
I will return to the clouds
changed, charged,  
once more bruised, but alive
for tomorrow, for to you wonder
why I am so preoccupied with death
and I will have no satisfactory response,
you will place a new heart in my chest,
but it will not beat there. 
 
Image is of a hamerkop (in folklore sometimes presumed to be the Lightning Bird)  from wikimedia commons: https://commons.m.wikimedia.org/wiki/File:Hamerkop_(Scopus_umbretta)_(12716718055).jpg
Image also on Twitter: https://commons.m.wikimedia.org/wiki/File:Aelbert_Cuyp_-_Thunderstorm_over_Dordrecht.jpg