Hares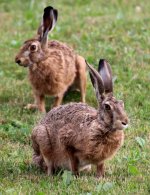 Fri, 04 Oct 2019
1 likes
Their black dipped ears
flinched and twisted, tuned
to curse and threat,
still we were seized
by these frantic wishes of hares -
their twilight trysts and lunar violence 
- though I have never coveted 
this kind of madness.
There was no need for mystics
when spring was over,
no enquiry to be made 
of purple entrails.
Love is its own insanity;
ours heralded jealous rituals
and embittered contests, 
we, boxers bloodied in the ring
until we were just secrets
of the field and heather.
And hopeless then,
we became dusk dwellers
who awaited the arrival of stars
as though they might deign
to share their brightness.
 
Image from pixabay.