Here Lie The Words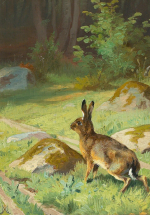 Sun, 18 Apr 2021
This is a poem based on Isobel Gowdie. She was from a village in the Highlands. She is thought to have been the wife of a farm labourer, poor and illiterate. She found herself on trial for witchcraft in April, 1662. She gave four confessions, which were notable because she went into extraordinary detail about her 'liaisons' with the devil, how she transformed into a hare and a crow, what curses she used, the fact that she was in a coven. She also talked about the times she had met with a fairy queen. It has been considered that she was mad, possibly from ergotism (long-term poisoning from eating fungus-infected rye).  No one knows what happened to her after the trial. It is presumed that she was executed. There are no bones, the only history of her lies in her confessions. I have a book about her and witch trials arriving tomorrow hopefully, so my interest is preempting that! 
This is the incantation that Isobel said turned her into a hare
'When we go into the hare shape we say:
I shall go into a hare
with sorrow and sigh, and meikle care
and I shall go in the devil's name
aye while I come home again.'
Here lie the words 
of Isobel Gowdie - only
a square of earth knows
the intimacy of her bones.
A hare convulses, a form
to fold into, careen and flight
through the youth of green wheat,
and perhaps it was the madness 
of bread, but we all confess
everything eventually. 
Because the sins you ask for
are the sins you'll get and
I could name any number:
the coldness of devils,
the curses, a baker's dozen.
A grief tree that no bird 
but a crow would dare
to perch in, with Isobel's verbs
hung from its boughs,
though I think the truth lingers
more in what she didn't say -
the landlessness 
of her womanhood - 
how it is impossible 
to lose anything
when you have nothing.
Image from here: https://commons.m.wikimedia.org/wiki/File:Adolf_Mackeprang_-_Landskab_med_hare.png
Also on Twitter: https://commons.m.wikimedia.org/wiki/File:A_Crow_MET_DP802851.jpg