The Swallow's Broken Leg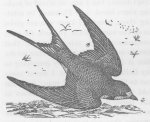 Sun, 05 Sep 2021
1 likes
We thought that if we were good
that we would be rewarded ---
all our stories said so.
Once, a harvest failed, promised
the hunger of winter, and a swallow,
an autumn departure, the arrival
of the long night.
And once, a swallow fled the fright
of a serpent, but fell and 
broke his leg.
Once, men and trees knew the same earth,
its depths, but the poor also watched
the stars, and saw that one bruised soul
may mend another's, so ---
once, a broken man healed the injury
of a swallow, returned twilights,
the sky and its blue pasture 
of lambs, of wings to read the wind.
And once, his recompense was gourds
of gold, a nest for a proverb, and
the envy of a brother brought low:
the heart of a swallow, heavy
with a tale, will bear no imitation. 
There is a Korean folktale about two brothers, Heungbu and Nolbu, and two swallows. Heungbu was swindled out of his inheritance by Nolbu, and following a bad harvest, was left facing starvations. He went to his brother's house to ask for food. Nolbu's wife hit him on one cheek with a spoon covered in sticky rice. Heungbu invited her to hit his other cheek. He fed his children with the rice that had stuck to his cheeks. Later, he witnessed a swallow trying to escape a snake, and in doing so, falling and breaking his leg. Heungbu mended the swallow's leg. The swallow departed, but told the swallow king who had healed him. The swallow king gave him a seed to give to Heungbu when he returned. He planted the seed and great gourds grew. Heungbu and his wife cut the gourds open and found that they were full of treasure. They were rich. Nolbu was riven with jealousy. He broke the leg of a swallow in an attempt to invite the same luck. In turn, the swallow returned with a seed which Nolbu planted. Great gourds grew. However, when he cut them open, goblins and devils sprang out and chased and beat him black and blue. 
Image is from here:https://commons.wikimedia.org/wiki/File:Swallow_Illustration.jpg