Wolf moon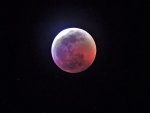 Sat, 11 Jan 2020
Made of hornbeam,
I had its ironwood in my veins;
I walked bent under the weight of it
by the time I saw that wolf moon.
She had risen low and fat 
upon the horizon
when she blushed me a frosted glance. 
But if you howl at her, she howls back,
and there is no prowl beneath the watch
of her grey eye, she lets the night whisper
its keen science and history of everything,
you cannot hide behind her penumbral mists -
she will show you
that you are no hunter at all -
you are the little lamb that knows
the cold sharp of terror, that knows you have,
unnoticed,
drifted from your flock. 
 
Image from pixabay