Quinn and the leopard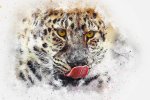 Sat, 07 Oct 2017
As union rep, Quinn met the management every week.
"Well what are the minions moaning about today, Quinn?" asked Edward Oncho OBE, company Director.
"It may seem strange," Quinn said, "But several of my members report seeing a leopard in the building. People are a bit worried."
"A leopard, Quinn? Are you mad? Why would management introduce a  leopard into an office building."
"Well, we don't know where it came from. We just want you to get rid of it."
"Leopards don't just appear in the middle of Basingstoke business park, Quinn. It's not that sort of universe. There are more important matters for management to worry about." At this point, he paused to look at some paperwork. "You're part of Team B, aren't you Quinn?"
"Yes," said Quinn. "Why?"
"I've been looking at Team B's performance. It's terrible, at least 0.2% worse than the performance of Team A. If the leopard were to see these figures there's no telling what he would do."
"Leopard? But you said there wasn't a leopard."
"I mean your rhetorical leopard, Quinn. Let us suppose there really was a leopard. Well, if he saw your team's performance compared to Team A's he would clearly want to make changes."
"You mean the leopard's running the company now?"
"What I mean Quinn is that I want to see a massive improvement in Team B's performance. That's all."
Though Quinn was determined not to be threatened, the rest of his team were more demure, and he noticed that they worked harder, gossipped less and stayed at their desk a lot longer than they needed to at the end of the day.
Come next week's meeting with management, Quinn's team were actually outperforming Team A, but this wasn't upermost in Quinn's mind.
"It's about Michaelson," he said to Ed Oncho at the start of the meeting, "You know, in Sales, one of my members."
"Michaelson, I'm not sure I know him? What's the issue, want a pay rise does he?"
"No, I'm rather concerned actually. He's gone missing."
"Missing?"
"Yes. His sales were down and his manager told him that 'if he didn't improve, the leopard would come and have a word with him'."
"How strange."
"Yes, and even more strangely, a few days later he completely disappeared. His wife hasn't heard from him, he hasn't been at work. He even missed the weekly darts match."
Word of Michaelson's disappearance spread, as did a rumour that the leopard had taken to hanging around the reception area after 9.15 in order to greet late-arrivers. Nobody could verify this claim, as nobody arrived late for work anymore, neither did they leave early. Everyone worked hard, as if ever-conscious of the leopard.
In spite of the leopard, or because of it, Quinn's job became easier. Nobody complained to the union rep any more, indeed everyone went out of their way to make it known how happy they were. Even management were happy, with production up and absenteesim down. 
Quinn went to the management meeting expecting a quiet time, however he arrived to consternation. In at least three corners of the room there were small groups of middle managers shouting at each other, there was paper strewed everywhere and the flipcharts were full of scribbled garble and hastily-drawn graphs (all spiralling downwards). 
"Am I late?" Quinn asked.
"Oh, we've no time for the union today Quinn," said Ed Oncho, "Can't you see there's a crisis."
"Crisis? What crisis?"
"It's our main rival, Quinn, Company B. They've got a tiger."