By Lendal Bridge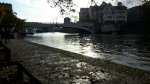 Sat, 09 Nov 2019
By Lendal Bridge
After William Carlos Williams - Rimbaud/Solzhenitsyn, perhaps
By Lendal Bridge, I take my brushes out and paint.
Light patterns spread across the swollen Ouse, complicating its otherwise simple progress through the curve, between the many faceted banks and walls, its rippling brightness teased from a wintering sky.
A coffee cup, late of breakfast, foregrounds the ochre-speckled towpath – damp from here till April – framed by skeletal arms of birch, sycamore, chestnut.
Oarsmen/women opposite ease their slender hulls into secret racks behind a modernist facade, as scattered flecks of foam – remnants of many an upstream drama – process innocently past.
As a child, I imagined Lendal's iron span would fold and take us, Bristol omnibus and all, to meet our private drowning place. It seems a more prosaic closing scene awaits.