Stockholm archipelago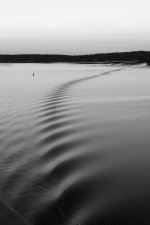 Mon, 07 Sep 2015
1 likes
I nearly forgot something, but 
it was there at the jetty when 
a blonde girl said goodbye
to her father. And the passengers 
looked on as he walked back, 
slowly, up the island track
into the folding pines.
Wash from the propellers slashed 
the rocks and the ferry scurried on. 
It disturbed distant ducks 
blotting refracted skies.
I remembered again in the pale eyes 
searching the brown sea,
where engines gurgled in my eardrums
and pounded the lateral-lines 
of delicate fish.
My other life lurks in the thousands of 
inbetweens; the synapses 
between islands, forests 
and wooden houses. 
There, fathers say goodbyes
and distressed fish
flip on to rocks. Boats float
and velvet ducks are pushed outwards,
killing the skimming light.