Broken wings still fly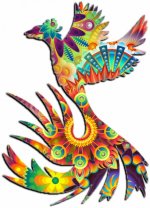 Sat, 06 Feb 2021
1 likes
Keys jangle in her hand as she stands indecisive before the front door, nothing there, nothing worth the effort of turning the key, she backs away. Her hand on the car door, wanting to open it, needing to flee, but she can't. There are traps, little puzzles that intertwine, sticky wickets of business blocking her escape. Not love, not that anymore, but just as binding without hearts in play.
Lawyer's jargon fills her head to bursting, what they both want they cannot have without compromise, distasteful compromise, choking on words, bitter pill indeed. She turns back to the door but it is no longer closed. He is there.  Eyes cold and dispassionate; he knows she doesn't want to be there, would rather be anywhere but here.
"Come to divvy up the spoils of war?" he says with a sarcastic twist of lip. She doesn't respond but her hope to escape is gone. She walks past him into the home they'd once shared, once filled with dreams.
She hesitates at the entrance to the living room. Had she ever liked that horrible rust colored carpet? Had she never noticed the cluttered wall unit held all of his treasures, and none of hers? The paintings on the wall had been his choice too. Where was her presence? Had it ever existed in this house?  
Her eyes light on the small hand blown glass in the shape of a phoenix rising from the lava stones beneath it. That was hers. That one small treasure she'd bought on their honeymoon, how prophetic. She too would rise up stronger. This she would take, he could keep the rest. She'd never truly lived here.
She picked up the small glass figure and turned to him. "Sell it with everything in it, I don't care," she said coldly and her eyes stabbed his when he chuckled darkly.
"I completely agree. We'll sell the house and never have to look back at this debacle."  He said with a sardonic look, wanting to intimidate her but she thought he looked ridiculous and she laughed, honestly laughed.
It was cleansing. She felt the giddiness of freedom bubble up with each guffaw. 
His eyes grew wide. He was baffled by her reaction and that made her laugh all the harder until tears, happy tears, began to fall.
He shook his head. "You're crazy."
"Absolutely," she agreed with a grin, "Just send my half of the sale to my lawyer, he'll know where to send it. Goodbye Jake; it's been an awakening." She walked back out the front door.
"Wait. What about what you want from the house."
"There's nothing, it's all yours, it was never mine anyway."
She laughed harder, opening the car door as life pulsed through her. Then she revved the engine and backed out of the driveway; his face a confused mask in her rear view mirror and hers bright eyed with possibilities, and the open road ahead.