"Past and Present" Chapter 1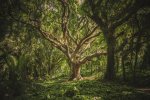 Sat, 04 Jul 2020
The newsroom was hectic. It was nearing the deadline for the final print and the last of the articles were due in. Stephanie Mitchell was spell checking her article when Grant Westfield leaned over her cubicle. "Sam actually gave you a plum article? And I gave him credit for being an intelligent man. I guess one can never tell when stupidity will strike."
His deep voice dripped with sarcasm and the hair on the back of Stephanie's neck stood on end. He was the most obnoxious individual she had ever had the displeasure to meet. His good looks may be classic and the other women in the newsroom might think he was a god but to her, he was Satan incarnate! "Well, in my opinion only a stupid person would find his decision stupid in the first place. And seeing as it is you…I rest my case," she returned with a saccharine smile and her stomach clenched as he laughed harder and walked away.
"If I didn't love this job so much I'd quit just so I'd never have to see him again," she swore under her breath as she deleted a misspelled word in her article. She had worked here for six months and the blackest part of her day was when he passed her desk after delivering his copy to the editor. She'd tried to finish before him but she never seemed to be able to beat the deadline. It was as if she had to be punished with his presence everyday.
The beeping on her screen alerted her to the end of the spell check. She pressed the print key and as it printed she sat back remembering that first day at the Island Gazette. She was so excited to finally have a shot at being a journalist, to see her words in print, and maybe have a chance at investigative reporting, that was her dream. The editor of the paper, Sam Winthrop, had taken her around and introduced her to all the staff and the top reporters. Grant Westfield was one of those top reporters. She couldn't say why her body had tensed for battle when he turned from his desk for that initial introduction but he must have felt a similar reaction to her for his laughing eyes suddenly narrowed with displeasure at the sight of her. t was hate on first sight for both of them.
Admittedly, it was unusual to feel so intensely a dislike when they had no history between them but knowing that fact didn't make the dislike any less real. She 'd never felt such animosity towards another human being. Maybe she should question it but then again, he was so obnoxious she couldn't really feel all that bad about hating him, he made it so easy.
"Hey Steph, want to stop for drinks after work?" Melanie breezed into Stephanie's cubicle and sat down.
Stephanie ended her unwanted thoughts on Grant and turned to her friend. Melanie Reid (Mel) wrote the 'Dear Auntie Mel' column, giving advice to the love weary, love starved and the love hopeless alike and she was pretty good at it too. She had a psychology background and it showed in her thoughtful and insightful answers. They'd become good friends over the last six months despite their very different personalities. Melanie was outspoken where Stephanie was quiet and slow to trust. Melanie loved to go out and meet new people but Stephanie preferred her circle of steadfast friends to new acquaintances. Their differences extended to their looks as well.
Melanie was red haired, hazel-eyed and at five feet five she was cute and petite with a very quick wit that could be both razor sharp as well as humorous. Stephanie had chestnut brown hair, blue-green eyes, was taller at five feet eight, and had a reserved personality. She'd been told she was beautiful but she didn't put stock in that and never used it to her advantage, much to her friend Mel's dismay and Mel had been shocked that she and Grant hadn't found a mutual attraction. Mel thought Grant Westfield was the best catch to be had anywhere but she volunteered to help Stephanie find her Mr. Right and to that end, kept hounding her to go out and meet people.
"Sorry Mel, I need to be in early tomorrow to talk with Mr. Winthrop about the article he's compiling on medical fraud," she leaned closer and whispered, "I want to write a piece on it."
"Steph, don't waste your time. You know he'll give that to the big guns. They have all the connections to get the gritty details and inside names. You might as well sleep in tomorrow and have a good time tonight." 
"Not this time. This time, I have a name."
Mel's brow rose with her interest, "You have someone willing to give you information?"
"I think so. The man has connections and wants to talk. I'm driving to Westchester County on Sunday to meet with him but I'll need to get Sam's backing before I go."
"I hope Sam gives you it but you need to be careful. You're taking a camera crew right?"
"No, no cameras and I have to go alone. He's an anonymous source but he promised his story would be explosive and corroborated with investigation."
"I don't like the sound of this, he could be a fake, someone wanting his fifteen minutes."
"No, his voice was sincere when and I believed him. His conscience is demanding he talk."
"So he's involved in the fraud he wants to tell you about?"
Stephanie shrugged, "I'm not sure of that but if Sam let's me go, I'll know that on Sunday."
"I can go with you." 
"No, I have to go alone," she said adamantly.
"Okay, but call me after the interview."
"You're such a worrier but sure, if Sam let's me go, I'll call you right after."
"Promise?"
Stephanie laughed, "Do you want to pinky swear?"
"Absolutely," Mel nodded and stuck out her pinky.
*
Sunday afternoon found Stephanie driving down an unfamiliar dirt road in the waning sunlight. She'd followed her GPS directions carefully but must have made a wrong turn. For the last half hour, she'd been stuck on this winding back road and her GPS kept telling her to turn right, keeping her in this weird loop. She tried ignoring the GPS, changing direction, but she was still circling the same road. She glanced to her left, there was that odd looking tree up ahead she'd seen before. "This is ridiculous," she said with frustration, "I know the main road has to be close. Why doesn't any road lead there?" She spoke out loud needing to break the fearful silence in the car.
There were no other cars on the road. In fact, she hadn't seen another car in the last half hour and now the sun was setting. Her stupid GPS was giving her road names she couldn't find. Right now, it said she was near a gas station and there was no station to be seen, there was nothing but open fields and a dirt road. It made no sense.
"Turn right," the stupid GPS advised her and in her annoyance she turned sharply left onto the road with the tree with a bit more power than she'd intended and her car swerved unsteadily on the gravel road. A snowshoe hare jumped out in front of her car and she quickly turned the wheel to the left to avoid hitting it. She didn't see the ditch at the base of the tree that her car slid into but felt its impact as her head hit the driver's side window and everything went dark.     
*
"You gave her the story? Why?" Grant asked in disbelief, "Of all the dumb reporters in the newsroom why her?"
"Calm down, Grant. I don't know what you have against Stephanie but she's a very good reporter and she has potential for becoming one of the best. I can see it and usually you're a much more astute judge of character than you've been with her. I can't help feeling your opinion is personal. Did you know her before she came to work at the paper? Is it a case of love gone wrong?"
"I didn't have to know her before to know that she is incompetent and uses her looks to get ahead in the world."
"That's an awfully strong accusation when you don't know the lady...Grant, it's not like you to try to destroy a person's career based solely on superficial opinions."
Grant knew that but his gut said she was no good. He shrugged. "I don't know why I dislike her. It feels like it should be based on a past history but I swear I've never met her before. It's just pure instinct and a journalist relies on instinct. She's just no good. I know it!"
"I still have to differ with you there. She hasn't shown me anything that would even remotely support your opinion and until she does, you should rethink your own reactions. They're too strong, almost like pure hate…and you know as well as I what the flip side of hate is. I don't have to say it do I?"
Grant made a disgusted face at his boss. "It isn't love! I could no more love that lady than I could love a rattle snake both would surely kill you."
Grant heard his own words but couldn't believe he'd said them and what was more, he had a vivid image of himself saying this about her some where before, but how could that be? Where or when?  He couldn't place where but it felt certain that he had…but that was impossible.
Grant was suddenly aware of the silence in the room and looked sheepishly over at his boss. Sam had an odd expression on his face and he couldn't blame him.
"Grant I think you might need some time off. A small vacation might do you some good. I hear the skiing in Aspen is very good right now." 
"I'll work it out. If I can't get these feeling in line by weeks end, maybe I'll take you up on that vacation offer." Grant gave Sam a weak smile before turning and walking out of his office.
Sam stared at the closed door and shook his head; he really hoped Grant pulled himself together. He couldn't understand what was wrong with him but it really wasn't like Grant to be so nasty. When he'd hired Stephanie he'd actually entertained the idea that the two might get along exceptionally well and become a reporting team. He didn't understand Grant's animosity at all. Stephanie was a good writer and had a sweet disposition with all the other co-workers and Grant was usually the perfect mentor, especially with new reporters; he'd always been the one to help them along on their first weeks at the paper. This hostility between Grant and Stephanie was unexpected and very out of character. 
Sam's reporter's nose was twitching that there was more going on here but the phone on his desk rang and he was once again engrossed in the daily business of keeping the paper running. 
*                                 
Stephanie didn't know how long she'd been out but when she opened her eyes it looked darker outside than she remembered. Her head was against the driver's side window and she touched her head gingerly, it hurt but she was glad to see there was no blood. Still, she had blacked out from the impact and that meant she could have a concussion. She knew she couldn't stay in the car and hope for help she had to get out and find someone.
The car had landed on the driver's side in the ditch. She had to pull herself across the passenger seat against gravity then roll down the window to climb out. She managed to hoist herself out of the car and was grateful for her old 1972 Dodge Dart or she'd have been stuck in the car with non working power windows and would have had to try to break a window to get out.
Stephanie leaned against the car and looked inside. Her cell phone, which was usually in her car's hands free holder wasn't there. It must have fallen but she couldn't see where it landed in the dark interior but she wasn't climbing back in to find it. Her purse was peaking out from under the back seat and she tried to reach the strap but it was out of reach too.
She turned around and looked at the desolate landscape. Her first order of business was to get a tow; she'd retrieve her phone and purse once her car was out of the ditch. Luckily, off in the distance, there was smoke coming from a chimney in what looked to be a farmhouse. It was pretty far away and long walk in the chilly evening air. She shivered pulling her short, wool coat around her, and stared walking. That farmhouse was her best shot at getting any help.
Ten minutes later, she had a better view of the entire house and paused. The two story structure ahead gave her a strange feeling of recognition but she decided it looked familiar because she'd probably passed it several times before landing in that ditch.
The sound of a door slamming made her notice a woman running from the house. She appeared to be crying. She was running towards her so Stephanie waited there, even though it looked like a bad time to ask for help she hoped she'd let her just use her cell phone to call for a tow.
When the woman was closer, Stephanie noticed she was wearing some sort of old fashioned, long dress, with a short tight jacket. It looked like a costume. Was she going to a costume party or coming from one at that house? Stephanie could hear the woman's sobs and knew it definitely wasn't going to be a good time to ask for help.
Victoria Pennington had had enough of the mean spirited man she had married. He could burn in Hades for all she cared. She was sick of him, sick of his accusations of her indiscretions. She was the innocent one. The audacity of the man, calling her names, accusing her of infidelity when it was he who'd been unfaithful. One of his mistresses lived in their house and had possibly borne him a child and yet he called her unfaithful. She wept harder because she had loved him, but their wedding day seemed like a lifetime ago and remembering that day made her heart squeeze painfully at her naivety. How had it changed so quickly? Why had he stopped loving her?
Her mind in turmoil she didn't notice the woman standing just ahead and gasped when she nearly collided with her. She stopped short and eyed the stranger curiously; she wore very odd clothing for a woman, a short woolen coat beneath which she appeared to be wearing men's trousers. Victoria's brow furrowed in confusion. "Who are you?" Victoria asked.
"My name is Stephanie Mitchell," Stephanie smiled and held out her hand to the woman but she didn't take so she shrugged apologetically. "I'm sorry, I can see you're upset but my car landed in a ditch near that tree down the road and I need to get it towed out. My cell phone's lost in my car so I was hoping you'd let me use yours?"
Victoria listened to the strange dialect. The words sounded English but many had no meaning at all to her. How very strange this person was, she thought but she could not be rude. She wiped away her tears and said, "I'm Victoria Pennington but I'm sorry I do not know what…" she started but her thoughts trailed off as she noticed of the woman's features looked a reflection of herself. Curious, she took a small step closer and it happened.
A powerful charge of electricity snapped between them and both women froze. They stared into each other's eyes and immediately realized… they were looking at themselves. Images flew between them showing each a window into the other's life. They were the same soul in different lifetimes. The knowledge was instantaneous and life altering for both of them. 
"Step back." Stephanie whispered, an intuition she couldn't explain warned her they could not get any closer; they could not share the same space but Victoria hadn't heard Stephanie's warning clearly.
"What?" Victoria asked stepping closer and suddenly they were pulled together.
"No!" Both women cried out and their voices combined into one singular pitch.
"What the heck was that?" Stephanie whispered, as her mind registered she was lying on the ground. She was grateful to feel the soft earth beneath her and glad the strange currents had let them go but her head spun when she tried to raise it. She stared wide eyed at the ever darkening sky above her wondering what had just happened to her. Her head began to hurt even more and she felt suddenly and violently nauseous. She sat up and grabbed hold of her queasy stomach and immediately realized something had changed. Her eyes wide with fear she looked down at her clothing. She now wore the old fashioned dress that had been on Victoria. 
The scream that left her throat carried easily to the man walking slowly towards her.
"Must you now upset the cattle as well, my dear?"
The sarcastic voice above her had her seeing images of Grant but when she focused on the man approaching she knew it wasn't Grant, but she knew this handsome man as well. He was Victoria's husband, Harrison. Harrison Pennington would become Grant Westfield, and the sudden insight into his soul blurred her vision as her mind screamed silent.
She had just been transported to Hell!