"Willow's Tail" 9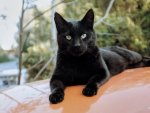 Sun, 23 May 2021
While Martha and Perfidia drew designs in the tea leaves at the bottom of their teacups with their slim spoons Willow jumped down from the stool and sauntered to the front door. Something was approaching and she sensed it was not a welcome something.
Willow gave an ear splitting meow, a second before there was a knock on the door.
Martha and Perfidia both looked up from their divinations with worried expressions. Something unwanted was coming to their door.
"Don't answer it," Perfidia warned.
"No use to ignore it; its already here," Martha prophesied and stood up, "May as well confront it."
"Fine, then let Willow out first, maybe she can sniff it and glean some information before we open the door," Perfidia offered as she followed Martha to the front door.
Martha gave her an exasperated look as did Willow, but Perfidia didn't flinch.
"What? I don't want to confront an unknown unprepared; what's wrong with that?"
"Then prepare yourself for I am opening the door," Martha warned her and turned the door knob.
"Wait," Perfidia stopped her then whispered three ancient words before she nodded. "Okay, open the door and let it in."
Martha's eyes widened seeing the purple suited, orange tie, delivery man standing in a ring of fire.
 "Perfidia blow out these flames," Martha said calmly as she looked down at the brown wrapped package he'd left on her door step.
"Why? I think he can tell us what he knows of the sender first," Perfidia said in a perfect purring voice that set Willow's ears forward with its message.
Willow's eyes glowed, a fiery gold, and focused on the bothersome man bird she'd met before. She didn't like him then and she wasn't pleased seeing him again.
"Both of you stop," Martha said with defined authority and her tone tolerated no argument.
"Thank you Ms. Candlelight." The young delivery man said with gratitude.
Martha gave him an exasperated sigh. 
"It is Kendelite but that doesn't matter. Can you tell us who this new package is from? I see no return address on it; in point of fact, the package has no label at all."
"Ah, I see my error," he said with a smile, "but I am unable to rectify it as I am still trapped in this burning prison circle."
Martha turned to Perfidia who reluctantly blew a kiss of wind towards the delivery man.
The flames went out.
"Thank you," the young man said stepping over the embers as he took out his orange tablet from his slim jacket and removed the purple feathered quill from its side holder.  He moved the quill over the package just inches above it, and writing appeared on the brown paper below.
"There you go," he said with a nod, "and since this delivery requires no signature I'll be off."
"Wait," Martha halted him but not with a flaming restraint with her will, and Willow's assisting tail flick.
"Hey, what is this?" he asked noting he was unable to move, "I have more deliveries today," he added with concern.
"Then the sooner you tell us more about this one, the sooner you may be on your way," Martha said reasonably but she did nod to Willow to loosen the hold.
The young man's eyes widened with affront. "I cannot divulge my customer's information; it is against policy and this customer was adamant there be no sender information given."
"Too bad about that," Perfidia's tone held no sympathy for his dilemma and havoc clearly churned in the depths of her eyes.
The young man's eyes grew pensive as he considered his options.
"I cannot tell you," he stated definitively and crossed his arms staring Perfidia down.
The gazes locked in battle but the practiced weapon of Perfidia's mischief was too much for the young man to handle and he had to look away.
His pride dented but his integrity remained.
"No matter what you do to me, I will not tell you," he said with conviction.
Perfidia was about to test that theory and set his hidden tail feathers on fire when the man turned into that purple-orange bird and flew away, faster than a normal bird could, and faster than Perfidia could react.
The bird may have been too fast for Perfidia but it wasn't fast enough to escape Willow.
Willow flicked her tail and the tiny light of flames way off in the distance could be seen tumbling and twisting trying to blow itself out.
"Thank you," Perfidia said to the feline with gratitude and Willow looked up and tilted her head giving a small meow of deserving acceptance.
Martha wasn't filled with accolades for the pair.
"You two have scared him off."
"Well you released him." Perfidia accused.
"I was trying to encourage his trust."
"Well, that didn't work." Perfidia said watching the tiny flame in the distant sky blow out, "And we still don't know who sent this."
"We can open it."
Martha suggested but as they looked down at the package something changed.
Where the package had only Martha's name written on it before, now Perfidia's name appeared below Martha's and under Perfidia's name appeared a perfect sketch of Willow.
"It seems it is for all of us," Martha murmured with foreboding.
Martha and Perfidia stared at their names on the package and Willow looked at the sketch, thinking it was not a good likeness of her at all then she flicked her tail and it changed into a perfect photo of her feline features.
Martha shook her head at her feline's ego as she picked up the package and walked back into the house.
Perfidia and Willow followed her.
They walked into the kitchen and Martha placed the package on the counter. She was ready to open it just as Mr. Appleton walked in to the room.
"Ah, I am so glad to find you both here; I'm so grateful to you Martha for allowing me to recuperate here. I feel stronger already and for your help today Perfidia, I cannot thank you enough. So I would like to take both of you, lovely ladies, out to dinner. Your choice, just name the restaurant."
Martha quickly slipped the package under the counter onto a shelf and smiled at her guest, or rather Perfidia's guest.
"That is not nec-"
"Nonsense," Mr. Appleton cut her off, "I insist."
Perfidia and Martha had no graceful way to decline so Perfidia suggested a very expensive new French cuisine restaurant and, although Martha was not pleased with Perfidia's taking advantage of Mr. Appleton's generouse offer, in less than an hour they were on their way to the elegant eatery, 'La maison du delice Gastronomique'. But the package and what it portended was truly the only thought on Martha and Perfidia's minds as they drove towards the restaurant.
Willow lay on the kitchen floor watching it to be sure nothing untoward escaped from it; her tail tick-tocked at the ready, just in case.