Gauguin Girl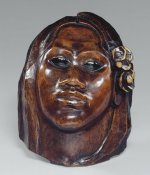 Fri, 15 Aug 2014
1 likes
He saw my
hibiscus face in sunlight,
strong feet in warm dust,
eyes that soaked up the world,
thighs grasping heat from a horse's flank.
We listened to wind singing in palms,
he placed the flower behind my left ear,
subtle as the scent of gardenias.
He sought to capture
something in me,
beyond me.
I stood beneath the tree,
in whose wood
he carved a face
like mine.
Bodies of the sensual world,
return to the earth.
The piece of pua,
a relic of what we were,
he stroked it as he stroked my face,
made it what he wanted to be.
You see I was strange.
You see I was beautiful.
I was
alive.