Little Ingland. 1: Histry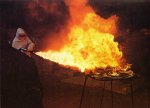 Mon, 27 Jun 2016
1 likes
Mam showed me how to do letters when I was small.  In her day there was school.  She was clever; like me.  We keep that quiet so we don't get caught by the toff squad.  Doesn't matter how much you try to reason with them, if they think you're for the old ways they'll have you. 
They got Maisie from next door.  She was my best mate.  We used to hide in the cubby and read.  She'd got one of those old torches. It would light up the dark.  It was like magic. 
Anyway, they caught her bringing back a bag of books from a load we'd found in an old house.
It was horrible.  They said they had to make an example of her.
It scared Mam.  She said we'd have to get rid of all our books as they were bound to search the house.  She called me, 'Joanne', in a serious voice; even though she always called me, 'Jo'.  It was like I was a grown-up.
It was sad, burning them.  We did them a book at a time.  Watched the flames turning the pages like they were reading them super-fast, gobbling up all the words and memorising them; like I'd tried to do.  Little flakes of ash floated around the room, like dirty snow. 
Mam took the ashes in the fire-place away in an old bucket at night; said she threw them in the river, like we did with Maisie's ashes after they'd burnt her.  Maisie would have liked that.
Mam would kill me if she knew, but I'm making my own book.  Writing everything down and that.  It's all on scraps.  I'm always on the lookout.  Found some old rolls of paper that they used to stick on walls.  Dead pretty on one side and bare on the other.  It was like a miracle.  Like Maisie was whispering in my ear to keep the histry.  We called it that, his-try, not his-story. 
At first I used hard bits that don't burn up in the fire to make the marks on the paper, but that was rubbish.  I make ink now; use all sorts in it.   Some bits in the book are a hard to read, but I try to keep it all in my head as well as on the paper, just in case someone wants to hear it.
The great division happened way before I was born, or Mam.  Grandad was alive; though he's dead now.  Fell over and his leg went all green.  We put him in the river too.  
Anyway; he told Mam all about it and sometimes she tells me, in the dark, to keep our minds off being hungry or cold, or both.
At the edge of the kindom is a sign, it says 'Welcome to Ingland'.  I've never seen it as it's too far away, but I wonder about what's over the edge.  Mam said that a long time ago there wasn't an edge; that it was all England and that bit joined onto the United Kingdom and that bit joined onto Europe and that bit joined onto the rest of the world and on and on. 
I suppose it still does; all of the bits are just called different things now.
Ingland is smaller than England was.  Loads of different people used to live in England; just the kin live here now.
Some people had to leave, some people wanted to leave and the others said they would make a new England.  They called it Ingland because of the bad luck the letter E brings, that and we were 'in' it.  Grandad said he never really wanted to be in it.  It all happened around him and he got stuck. 
Seems that's what it's like for most of us here.  Just stuck.
They say things will get better but that it will take time.  I don't really know what they think better is.  Nicer things to eat, maybe.
They say there are squads at the edges of Ingland.  That if you go there they will catch you and make an example of you.  But my histry needs a map; a picture of the shape of Ingland. 
If I'm going to write about it, I need to know about it.  It feels like an important thing to do.  It's what Maisie wanted to do.