Minotaurs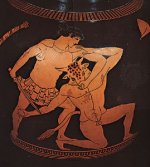 Wed, 26 Oct 2016
I noticed Queen Pasiphae eyeing up the bulls,
well, you know what they say about her.
They were fine specimens:
clear-eyed and muscled, glossy haired, strong legged,
hooves stamping up the dust.
You've got to love a bull.
And those Greek boys -
full of fire and fear,
freshly arrived, bathed and oiled -
I'd heard them the night before
singing to their gods
in an olive grove.
So brave and certain their lives were about to change
in the ring
at the heart of our twisted city.
Of course I rose with the others,
my heart in my mouth
for the sweet-faced boy who fell in the dust,
watched his friend run out to tease the steaming beast away from him,
wanted this to be over and for them all to be safe
and laughing under the vines
drinking wine and forgetting their mothers
and the bulls
faraway
on a hill
watching sails out at sea
bringing the next challengers.