Moths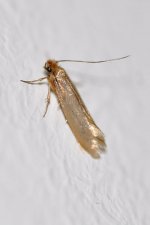 Tue, 03 Apr 2018
Moths are back
to feed on the fabric of our lives.
Larvae slip soft bodies
from cylindrical casings -
invisible teeth unpick
our stories -
woven with the weft
across the warp -
now laid bare.
Colour blind in the dark
they suck dye -
transform memory
into the drab beige
of dusty death.
 
Image: https://commons.wikimedia.org/wiki/File%3ATineola_bisselliella_1.JPG