The Stigmatisations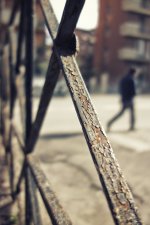 Mon, 30 Sep 2019
2 likes
Hello Ralphie.
How you been?
You're looking well.
Perhaps a little thin.
Yes. I'd love to meet you for lunch.
Give me a week, I'll give you a bell.
No, I can't come out right now, Ralphie boy.
I won't sniff around to your smell. 
*
Lovely to see you again, Mr Dartford.
It's been the longest of times.
I bet in preparation for this interview
you've hoovered up a couple of lines. 
Thanks for coming today, Mr Dartford. 
You see, this is a very difficult role.
We'll let you know by Friday afternoon.
Now, piss off back to your hole.
*
Oh look at him, look at him, look at him!
He's clearly right off his tits.
My mate Mick saw him shoplifting.
His family must be in bits.
And then Johnny saw him crying.
Said he was talking to himself.
Fifty five years old, a fucking failure.
A life sliding right off the shelf.
*
We see you say you're a poet.
We say we see you're a junkie.
We'll pay you peanuts to sweep the floor.
We'll call you 'Junkie the Monkey.'
Don't come back here saying you're sorry.
We won't forget and we won't forgive. 
There are consequences for every single action.
There are reasons for you not to live.
*
Yes it's true that once I was an addict. 
Yes it's true that I'm resolutely clean.
Stigmatisations broke my heart into pieces.
Prejudices are the bricks of the mean. 
My name is Ralph and I am free.
My name is Ralph and I'm not afraid.
My name is Ralph waking in the sunshine.
It's up to you to shiver in the shade.