The 15-minute city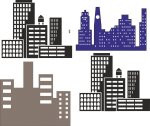 Tue, 04 Apr 2023
2 likes
I don't understand this concept of 15 min-cities.
It seems to be proposing people should be able to find all they need:
healthcare, schools, shops,  leisure
within a 15 minute walk or bike ride from their homes.
Villages within cities?
I suppose it reflects more dependance on computing interaction
for working form home via internet messaging and conference
and shopping in smaller shops or via the web
and an end to large stores for browsing by those who can get there;
less need to visit city centres,
more use of public transport, less car usage.
It seems more of a concept for new building
than trying to compartmentalise existing communities,
or trying to find what community natural boundaries exist already??
https://www.dailymail.co.uk/property/article-11921133/Oxford-Bristol-She...
https://en.wikipedia.org/wiki/15-minute_city
[IP: 15 minutes]