The Amazing Molecule!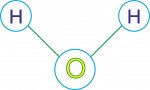 Fri, 16 Dec 2022
Surprising simple structure
bafflingly suitable
properties unusual
medium essential
for living cells
for transportations
and chemical reactions
remarkable bipolar solvent
attracts into solution
so many different types of substances,
and lighter when frozen
 – to the advantage of winter pond-life:
freezes at the surface leaving
the lower water still liquid:
but don't stand on that ice until you know it's
thick enough, tough enough!
But how is there so much on earth?
no sensible scientific explanation
other than placed here at supernatural creation.
[IP: use earth, fire, water or air]
https://www.abctales.com/story/rhiannonw/where-did-all-our-water-come