on the brighter side …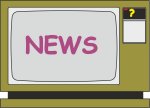 Thu, 11 Jun 2020
Murder, lawlessness and pain,
the strong abuse the weak again,
warfare, rape and earthquake, flood;
— but now we've news of someone doing good.
Unfaithfulness, and shoddy wares,
broken families, health scares,
robbery and famine, bombs;
— but look at this camera watching nesting swans.
Cowboy builders, repairs all fake,
harshness to leader confessing his mistake,
pushers pushing drugs and dope;
— conscientious teachers helping children cope.
Anger, malice disturbed and wild,
and here's a tragedy for an unborn child,
shooting, mugging, civil war;
— this neighbour reached out to loneliness next door.
Rumours and slander spreading dirt,
drunkenness, and helpers hurt,
A&E filled with revellers' fight;
— dedicated nurses work on all night.
[IP:'And in other news …']