Down by the river-side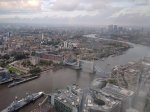 Thu, 28 Jul 2016
(growth of a capital)
Snaking river –
tide of trade
flowing
out,
and drawing
in:
ships,
boat building,             
dockworkers,
factories, shops:
dwellings cluster,
congregate, aggregate,
proliferate, propagate;
steadily the river flows,
well-watered city grows, and grows.
Rulers rich raise
solid builds
aesthetic,
that last, conserved
– become historic;
tangled with
the cheap and flimsy
housing packed, and stacked:
comradeship and grime,
greed and envy
breeding crime,
sparks of faith and light:
honest coster-'pearls'
delight to share their 'meagre-mite'.
New tide of trade –
mushrooming financial
information web
stretching
out,
and fetching
in,
over oceans hopping,
instantaneous,
never stopping …
day and night.
The river (cleaner now)
has put its brand
and snaked around the hearts
of those who've settled on its plain,
close to its banks glad to remain,
soothed by the constant onward
water movement gliding, sliding by.