Duvet!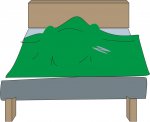 Fri, 04 Feb 2022
2 likes
It should be so straightforward
to put a duvet in its case,
but when I rush – no time to waste,
I soon regret presumptive haste
and find the corners out of place –
a twist, a hump,
an odd-shaped lump,
and have to dive inside to
find the edge, untangle
and take more time to guide and grip
careful not the strategies to bungle,
until its safely threaded.
evenly embedded –
a final shake til flat
so that
it's smooth, to soothe,
wrap round each one
who seeks its warmth when day is done.
[IP: straighforward]