Enablers for the special 10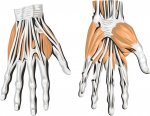 Thu, 02 Jan 2020
One small little one,
and one for wedlock's ring,
one middle, one pointing one,
and a just-long-enough opposable thumb.
– so, with the other hand that makes 10!
Then, 70 muscles are needed for all
the things we can do with them, control
accurately intricate delicate movements
and tendons link muscles in our arms with precision,
directed, co-ordinated by specialized brain:
amazing organisation, synchronization, interaction,
programmed production, construction, again.
They claim this evolved by statistically impossible chance
to help us throw a punch
(or use a cup, ingest our simple lunch?)
or aim a spear in defence or fear
to settle a score and win a war –
such flexible fine, adjustable grip
shows intelligent design
incredible skill,
and sets us apart
from mere survival
for sensitive surgery
and superb creativity
of music and art.
[IP: Ten of something]