The five doorways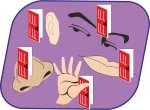 Tue, 17 Jul 2018
He shuts his eyes to evil,
he shuts his ears to hear
and yet he fears its touch to harm –
smells, tastes its presence near.
*********
His fingers quick to grasp a scheme
he knows is crooked, bent;
he doesn't want to look too hard,
deaf to deceit's intent.
He doesn't care that some will taste
disaster through his gain,
and that corruption's smell will cling,
suspicion will remain.
*********
But eyes that see and don't conceal,
good taste to listen well
to truth, and touch that's sensitive
produce sweet scent to smell!
[IP: use the five senses – sight, hearing, smell, touch and taste]