Imagine …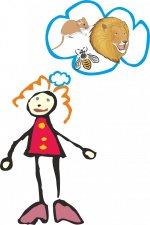 Sat, 09 Jan 2021
I'm a lion in a cage
in an angry roaring rage …
… I'm a frightened little mouse
quietly scuttling round the house.
… I'm a Mummy feeling wild
for I've such a naughty child!
… I'm my irritating brother
pestering his older sister.
…Too-whit, too-whoo – at night I fly,
hunting, swooping through the sky.
… And now I am a little bee –
buzz round flowers busily.
… I'm a spider waiting here
for a fly to come too near.
… A snake that slithers on the ground,
glides, and slides without much sound.
… Now, I'm tired, just want to be
me – hope it's nearly time for tea!
[IP :Go somewhere quiet and close your eyes. You can go anywhere at any time and be anyone you want]