The Impossible Move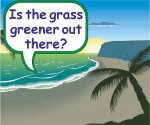 Thu, 13 May 2021
They seem to think life started in the sea – somehow,
but plants appeared on land,
and then – unplanned
some moving creatures in the water thought
that source of food out there could be exploited – so they sought
genetic change – upgrade or seek to tweak
their own hereditary DNA!  – no way!!
(and many, many changes needed)
Or did enough mutations just occur
together, to fit for such a change of scenery
– to live surrounded by the drying air,
without that watery support their weight to bear,
and respiration by a new inventive way
to be resolved – from air, not oxygen dissolved
in sea water –
so much coincident unlikely genetic scrambling,
– and if not all at once,
the half-change would be damning,
for part-formed organs would survival fail
not suited for the sea, or earth,
so naturally selected out for death,
unable to prevail.
Why do so many think such myths are true,
that scientists (not all!) now hold it certain in a clear view
assume secure, their hopeful reasoning sure?
– well, if it did not happen so ,
there must have been divine creation:
they therefore say (quite meaning to be honest)
that they these matters know,
though evidence cannot be found,
and dating methods all rely on factors so unsound
that a billion years that are supposed to help such acts
statistically to happen somewhen,
are unproven, unlikely, negated by so many facts.
We shouldn't be surprised
if the basic body structure forms devised
are similar but different in the varying habitats
not indicating one transmuted to the other
just showing skilful application, variation by
one astounding great Designer,
Supernatural Creator.